CNS Column Falsely Blames Biden For Pipeline Cyberattack
Topic: CNSNews.com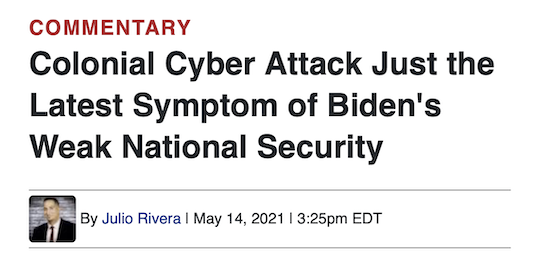 Julio Rivera, of something called Reactionary Times, ranted in a May 14 CNSNews.com commentary:
So, with it being well-established that America's literal borders are being weakly monitored, a message has been sent to the world's hack-for-profit underground that America has never been more vulnerable as she is at this very moment in history.

Want proof? Look no further than this past weekend's Colonial Pipeline ransomware attack. Colonial's 5,500-mile pipeline carries almost half of the East Coast's fuel supplies.

This most recent attack occurred in the wake of the Justice Department starting a 120-day review of critical cybersecurity threats last week. The DOJ initiative was confirmed in late April by Deputy Attorney General Lisa Monaco at the Munich Cyber Security Conference.
Curiously, Rivera made no mention of Donald Trump, who was president the previous four years and apparently did nothing on the cybersecurity front that would have stopped the Colonial Pipeline cyberattack -- indeed, he does't mentionb Trump at all. He did, however, go back to the Obama administration, which he claimed "was marred by a multitude of foreign cyber-attacks.
Rivera closed his commentary by sounding like a Trump hack: "If this losing trend continues for the Biden Administration, Americans can expect nothing short of agony during the more than three-and-a-half years we still have left with 'Sleepy Joe' and company." He offered no evidence of anything Biden did or didn't do to be blamed for the cyberattack -- whcih means he's just ranting for no reason.
Posted by Terry K. at 12:08 AM EDT