CNS Unemployment Coverage Distortion Watch, Reality Edition
Topic: CNSNews.com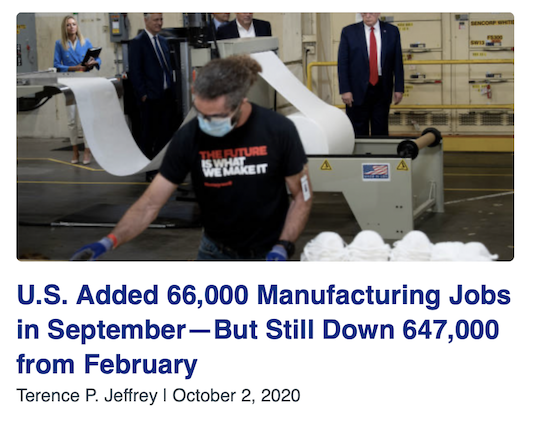 You know the unemployment numbers are bad when the aggressive pro-Trump spinners at CNSNews.com can't find a way to go all rah-rah over them. Note the dejected tone of Susan Jones' lead article on the September numbers, where even her pro-Trump spin is labored and sadly nostalgic:
As more of the nation's economy opens amid the coronavirus pandemic, the September employment shows a fifth straight month of progress, but it's meager progress at best.

The number of employed Americans increased by only 275,000, to 147,563,000 in September from 147,288,000 in August.

The nation's unemployment rate dropped to 7.9 percent from 8.4 percent in August, as the number of unemployed people dropped by 970,000, to 12,580,000.

[...]

The labor force is made up of the employed and the unemployed. The remainder -- those who have no job and are not looking for one -- are counted as "not in the labor force," and in a troubling sign, this number increased in September by 879,000 to 100,599,000 from 99,720,000 in August.

(The lowest this number has been under President Trump is 94,279,000 in April 2017. BLS notes that this number has been steadily increasing in recent years as more baby boomers retire, and certainly the COVID-related business closures have accelerated the increase as more people drop out of the workforce.)

In that month, the nation's unemployment rate (3.5 percent) was at a 50-year low; the labor force participation rate (63.4 percent) was at a Trump-era high; and the number of employed Americans (158,759,000) was just 44,000 shy of the all-time record set in December 2019 -- the 25th such record set under President Trump.
The authors of the sidebars couldn't do much better. Terry Jeffrey wrote that "The United States added 66,000 jobs in the manufacturing sector in the month of September, but that still left the nation with 647,000 fewer manufacturing jobs then it had in February when the COVID-19 pandemic struck,"conceding that "When President Donald Trump took office in January 2017, there were 12,369,000 manufacturing jobs in the United States. The September count of 12,205,000 was 164,000 behind that."
Craig Bannister did a little better in his report on Hispanic unemployment, but still had to admit that "The 10.3% national, seasonally-adjusted unemployment rate for Hispanics and Latinos in August fell by 0.2 percentage points from August's 10.5% level and 8.6 points from the record-high of 18.9% set in April, but remained well above March's 6.0% mark."
Looks like CNS is going to have to publish more articles about Joe Biden's purported "cognitive decline" to make themselves feel better.
Posted by Terry K. at 12:59 AM EDT