WND Finds A New Conspiracy Theory To Promote
Topic: WorldNetDaily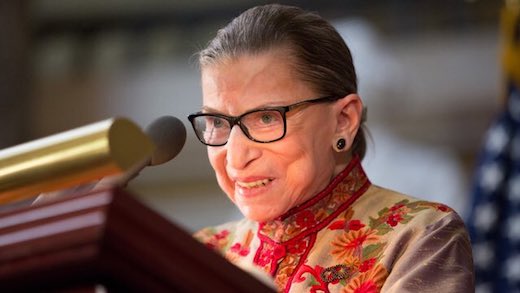 There's a hot new conspiracy theory going around: that Supreme Court Justice Ruth Bader Ginsburg could not possibly have attended an event in Washington, D.C., last week -- described as her first public appearance since cancer surgery in December -- because no photos exist of the event, perhaps because she's dying or dead.
And WorldNetDaily -- conspiracy theorists extraordinare -- wants in on that action. Thus, an anonymously written Feb. 5 article:
U.S. Supreme Court Associate Justice Ruth Ginsburg has promised to retire when she can no long work at "full steam."

For the past six weeks or so, following surgery, she's been working from home, according to the court.

On Monday, however, she reportedly attended a concert put on by her daughter-in-law at the National Museum of Women in the Arts.

But the American Mirror blog points out that in the age of digital cameras, no one apparently has documented her public appearance.

"Attendees at the Notorious RBG in Song described Ginsburg as 'glam,' and 'resplendent,' and 'magnificent,' but you'll have to take their word for it," the blog said. "In an era when every person is carrying a camera and isn't afraid to use it, there wasn't a single snap of the 85-year-old to be found. Every media story that covered her alleged appearance used file photos."

[...]

Several reporters "claimed to have spotted Ginsburg," the blog said.

NPR reporter Nina Totenberg wrote on Twitter, "Spotted at a concert by her daughter-in-law, the notorious RBG out for the first time after her surgery in December!"

But the American Mirror said: "Folks online aren't buying it, with more than a few pointing out the obvious: Why no pictures?"

Twitter user Edwin Motes wrote, "Well until I see her in a new video or sitting on the SCOTUS hearing cases, I won't believe the likes of the Washington Post!"
As an actual news outlet reported, the reason there are no photos is that photography was forbidden at the event. A Washington Post reporter who actually witnessed the event in question and saw Ginsburg there has been accused of either lying or having seen her body double instead.
Promoting conspiracy theories got WND into the financial hole it's currently in, and continuing to embrace them won't help it get out.
Posted by Terry K. at 12:04 AM EST