NewsBusters Blogger Tries to Justify Black Guest's Eviction From Hotel
Topic: NewsBusters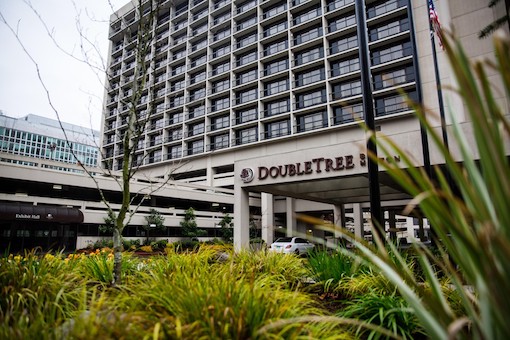 NewsBusters blogger Brad Wilmouth complained in a Jan. 1 post that "CNN has devoted a substantial amount of time to hyping the story of a black man who complained about racial discrimination after he was evicted from a DoubleTree hotel in Portland, Oregon. Two employees were fired for the incident." Wilmouth snarked that the security guard who challenged the guest "should have known he was going to be on CNN in heavy rotation....and out of a job," then tried to justify that the man deserved to be evicted from the hotel he was staying at because "became loud" after being challeged about being in the lobby:
Viewers could see why a black man would feel singled out. But you also wonder why, if he wanted privacy, [guest Jermaine] Massey didn't simply go to his room. Other guests appeared to be walking to their rooms, and not "loitering" in the lobby. It's also obvious that taking Massey to his room to get his things would certainly demonstrate he was a guest at the hotel.

In contrast with the other networks, Friday's CBS This Morning did at least inform viewers that, according to the police report, Massey "became loud and started yelling that the hotel was racist."

He also allegedly got angry and slid a hotel Bible across the floor while berating the security guard as he packed his items in his room, according to the police report. "While he was getting his belongings he took the Bible from the hotel room and slid it across the carpet toward [security guard Earl] Meyers and told him he needed to read it and learn how to be a human."
Wilmouth is leaving out certain details that more fully explain the story. According to a news article to which Wilmouth links, Massey had just returned to the hotel following a concert and had stayed in the lobby to return a phone call to his mother when the security guard approached him and demanded that he prove he was staying at the hotel or leave. When Massey couldn't immediately give the guard his room number, the guard had the manager call police. Massey claims he was singled out because he was a black man wearing a hoodie while white guests in the lobby were not similarly questioned.
Rather then demanding that the hotel explain why it singled Massey out in an instance of what looks to all the world like racial profiling, Wilmouth seems to believe the man deserved to be thrown out of the hotel because he objected to being singled out.
Posted by Terry K. at 6:33 PM EST
Updated: Sunday, February 3, 2019 6:37 PM EST