MRC Can't Disprove Studies on Conservative Media and Russian Influence, So It Insults Them
Topic: Media Research Center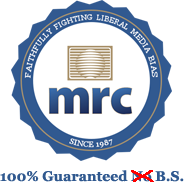 The Media Research Center's Corinne Weaver rants in a Dec. 17 post:
A new study has claimed Russia's online interference tried to aid the conservative movement and Donald Trump. There's a big problem with that assessment. It comes from a left-wing operation that previously classified more than 11 different conservative outlets as "junk news." And two of those authors were also involved in this report.

The study was released by the Oxford University Computational Propaganda Project and Graphika. It argued that fake accounts, ads, and tweets "all clearly sought to benefit the Republican Party -- and specifically Donald Trump"[.]
At no point in her post, however, does Weaver counter or contradict any of the conclusions the study reached. (Aren't you employed by an organization that purports to do "media research," Corinne?) And her evidence that the research groups conducting the study are "left-wing" is not much more substantive.
Weaver claimed that one researcher "has posted that he is against the Second Amendment" -- but the evidence she provides is a link to a single Twitter post in which the researcher states, "guns easily available in the US, so violent death rate is high in the US." Weaver does not explain how she read the researcher's mind to determine that guns lead to gun violence equals being "against the Second Amendment."
Weaver went on to write this about the researchers' previous study:
The Oxford University Computational Propaganda Project had attacked several conservative outlets as "junk news" in previous studies. Those targeted outlets include Drudge Report, NewsBusters, CNSNews, MRCTV, Breitbart, the Daily Caller, Free Beacon, LifeNews, National Review, the Federalist, and the Red State. (Three of those are operated by the Media Research Center, which runs NewsBusters.)

The study on "junk news" drew on "a list of sources that consistently publish political news and information that is extremist, sensationalist, conspiratorial, masked commentary, fake news, and other forms of junk news."
But Weaver doesn't counter the results of that study either. Even in a MRC post she wrote last February, in which she attacked it by huffing, "Liberal media will go a long way to portray conservatives as liars -- all the way to England," she does not disupte its results.It seems that Weaver is more angry that her employer was called out.
Ad hominem insults aren't "media research," though Weaver apparently thinks they are. Which tells you all you need to know about the MRC.
Posted by Terry K. at 9:30 PM EST