Newsmax Touts Kudlow's Economic Predictions, Censors How His Old Ones Failed
Topic: Newsmax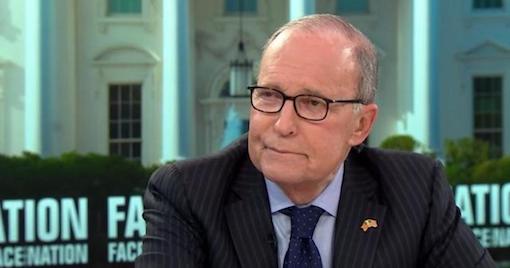 David Patten enthusiastically writes in a Jan. 4 Newsmax article:
Larry Kudlow, director of President Trump's National Economic Council, told Newsmax in an exclusive interview Friday that the economy's addition of a whopping 312,000 jobs last month means "we're in a boom" and there is no recession on the horizon.

"There's way too much pessimism out there, probably because of the stock market correction," Kudlow told Newsmax. "But sometimes stocks depart from the economy."

He added: "We're hitting on all cylinders. The Trump plan is working: Low tax rates for large and small businesses and individuals, the biggest regulatory rollback in decades, and sponsorship of American energy dominance.

"This is working. It has led to great confidence, particularly among small business owners."
Patten, however, doesn't detail Kudlow's record on predicting non-recessions -- or anything, really:
"Despite all the doom and gloom from the economic pessimistas, the resilient U.S. economy continues moving ahead," Kudlow wrote on Dec. 7, 2007, in National Review, predicting that gloomy forecasters would "wind up with egg on their faces." Kudlow, who previously derided as "bubbleheads" those who warned about a housing bubble, now wrote that "very positive" news in housing should "cushion" falling home sales and prices.

"There's no recession coming. The pessimistas were wrong. It's not going to happen," wrote Kudlow. " . . . The Bush boom is alive and well. It's finishing up its sixth consecutive year with more to come. Yes, it's still the greatest story never told."

[...]

When the economy didn't rebound and housing continued its collapse, Kudlow pronounced, in a CNBC column on July 24, 2008, that he saw in the data "an awful lot of very good new news, which appear to be pointing to a bottom in the housing problem; in fact, maybe the tiniest beginnings of a recovery." Stocks lost nearly half their value in the coming months.
Patten seems to have let his "exclusive interview" excitement overrule the idea of reporting the full story.
Posted by Terry K. at 8:22 PM EST