MRC's Acosta Derangement Syndrome
Topic: Media Research Center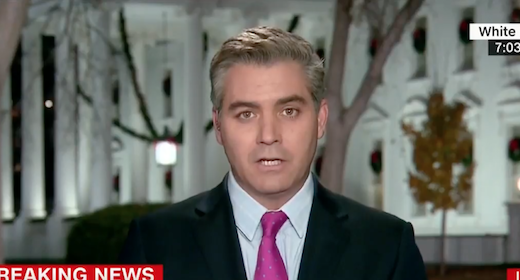 The Media Research Center absolutely despises CNN correspondent Jim Acosta. So it's no surprise that it spend the end of 2018 and the beginning of 2019 nurturing that hate.
The MRC's leading Acosta-basher, Curtis Houck, served up a year-end article on the "worst Acosta moments of 2018," unprofessionally sneering in the headline, "Jimmy, Jim, Jim" and rehashing thte MRC's cheering on attacks on Acosta by the Trump White House and attendees at Trump rallies.
In a Jan. 8 post, Nicholas Fondacaro huffed that it was "obnoxious" for Acosta to point out that, in reference to President Trump's prime-time address calling the situation at the souther border "a crisis of the heart, a crisis of thte soul," the Trump administration's policy of jailing children seized on the border was heartless and soulless.Fondacaro further whined: "CNN has become so entrenched in their Trump Derangement Syndrome, that they're 'fact-checking' whether or not the President has feelings and emotions like a normal human being."
On Jan. 10, P.J. Gladnick insisted that Acosta underwent a "hilarious self-owning" by pointing out that there were parts of the U.S.-Mexico border that did not have a steel-slat fence and there was no "national emergency" there.Gladnick concluded: "Exit question: How long before @realDonaldTrump retweets Acosta accidentally making the case for why a border wall (or steel slat fence) is needed?"
Gladnick got his wish, and pathological Acosta-hater Houck couldn't have been happier, unable to stop gushing:
A day after a trollish tweet for the ages that united people across the right side of the aisle against the media for a day-long dunk squad session, President Trump responded to a question Friday afternoon from CNN chief White House correspondent/carnival barker Jim Acosta by telling him "good job" on his Twitter videos on Thursday in McAllen, Texas that inadvertently made the case for a border wall.
Houck concluded of Trump's bashing of Acosta: "Oh snap!" Is such juvenile ranting and derangement any way for a professional "media researcher" to behave?
Houck further showed his immaturity in a post headlined "Watch Tucker Carlson Mercilessly Lampoon Jim Acosta for His Epic Self-Own at the Border," which slobbered voer "Carlson's Hall-of-Fame-worthy tomfoolery." What Hall of Fame? Houck never enlightens us -- he's more obsessed with finding any excuse to attack Acosta then to raise even the meekest objection to Carlson's sympathy for white nationalism.
UPDATE: We missed one bit of Acosta derangement from Houck last week. Under the clickbaity, hyperbolic headline "BOOM! Kellyanne Conway Nukes 'Smart***' Jim Acosta When He Delivers Low Blow," Houck declared:
Speaking to reporters Tuesday afternoon on the West Lawn of the White House, near to where the networks have their cameras setup for live shots, White House counselor Kellyanne Conway demolished CNN chief White House correspondent Jim Acosta for being a "smartass most of the time."

This came in response to when, instead of continuing to ask questions about the President's primetime address, Acosta went personal and attacked Conway by chiding how Trump doesn't have an "alternative facts problem like you do."
Interesting that Houck doesn't think Conway's insult of Acosta was a "low blow," and that Acosta didn't "nuke" Conway by accurately pointing out her "alternative facts problem." That's what Acosta Derangement Syndrome does, apparently.
Posted by Terry K. at 10:23 PM EST
Updated: Friday, January 18, 2019 5:57 PM EST