MRC's Graham & Bozell Still Can't Admit Roger Ailes Perpetrated Sexual Harassment
Topic: Media Research Center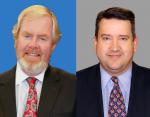 Observe the thought pattern the Media Research Center's Tim Graham and Brent Bozell use in their Dec. 14 column regarding new films in development by beloved (by Graham and Bozell) Fox News founder Roger Ailes:
Talk-radio host and friend Chris Plante recently made an excellent point about Hollywood. As horrible new revelations of sexual misbehavior surface about former Les Moonves, it's highly unlikely anyone's going to make a movie about him, or about Matt Lauer, or Charlie Rose and so on. But there are two fictional projects (and a new documentary) supposedly based on the late Fox News boss Roger Ailes.

Early pictures have emerged of actress Nicole Kidman dressed up to look like former Fox News morning host Gretchen Carlson, who played a major role in exposing a culture of sexual harassment of women at Fox. For her part, Carlson isn't a fan of the pictures or the movie, tweeting: "This looks nothing like me and the script I've seen makes other people out to be heroes unjustifiably. Hard to see your own story faked. Unfortunately — proves Trump's claim of #FakeNews."

Carlson can't really complain about Kidman's resemblance when Ailes is being played by ... John Lithgow, who looks absolutely nothing like him.

Hollywood often makes "fake news" when it comes to political movies.
In quick succession over four paragraphs, Graham and Bozell 1) play the equivocation card regarding allegations of sexual misconduct by raising that of others in order to downplay that of Ailes; 2) mock casting choices in one planned Ailes film project; and 3) play the "fake news" card to suggest that there was never a culture of sexual harassment that Ailes perpetrated at Fox News.
The two weren't done mocking; they dismiss Russell Crowe, will is set to star as Ailes in a separate production, as "a good actor who can't stop gaining weight and whose box-office appeal must be plummeting." (No admissiion that the whole weight thing makes him look more like Ailes than Lithgow, though.)
But nowhere in this column -- which also includes diversions into whining about how Hollywood treatment of conservative politicians and how a right-wing polemic about rogue abortion doctor Kermit Gosnell got ignored by pretty much everyone except anti-abortion activists (and the MRC) -- do Graham and Bozell explicitly admit that there was a culture of sexual harassment at Fox News and that Ailes presided over it.
That's in line with the MRC's lack of outrage over Ailes for doing things it has castigated others in the "liberal media" for doing. As we've documented, the MRC downplayed the accusations against Ailes when forced to admit they existed,and Bozell gushed upon Ailes' death that "The good Roger did for America is immeasurable" without mentioning whether sexual harassment fell under that.
Graham and Bozell whines about fictionalized versions of Ailes' life being filmed, but they're perpetrating their own fiction in refusing to admit he did nothing wrong.
Posted by Terry K. at 11:49 PM EST