MRC T-Shirt Proves Misinterpreting Its Trump Coverage 'Study' Is The Goal
Topic: Media Research Center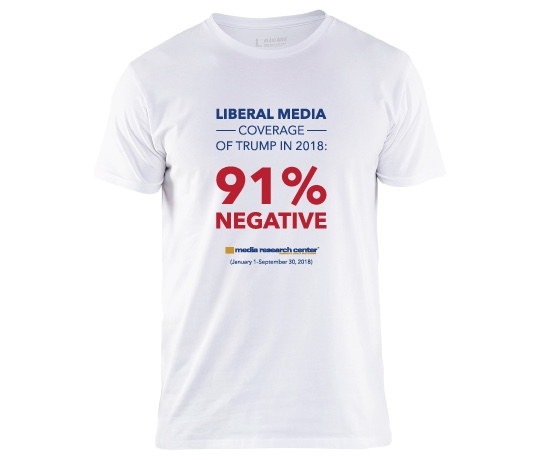 We've repeatedly highlighted how the Media Research Center's tally of the "liberal media's" purportedly "negative" coverage of President Trump is utterly bogus:
It focuses only on a tiny sliver of news -- the evening newscasts on the three networks -- and completely ignores the cable news networks including Fox News.
It pretends there was never any neutral coverage of Trump; in fact, neutral coverage is explicitly rejected even though that's arguable the bulk of news coverage, dishonestly counting "only explicitly evaluative statements."
It fails to take into account the stories themselves and whether negative coverage is deserved or admit that negative coverage is the most accurate way to cover a given story.
It never fails to provide the raw data or the actual statements it evaluated so its work could be evaluated by others.
Needless to say, the MRC's latest tally of "negative" coverage is pretty much the same. Rich Noyes writes in an Oct. 9 post:
In four weeks, Americans go to the polls for the midterm elections that the news media are casting as a referendum on the Trump presidency. Over the summer, the broadcast networks have continued to pound Donald Trump and his team with the most hostile coverage of a President in TV news history — 92 percent negative, vs. just eight percent positive.
And the MRC was tickled to death that Trump retweeted the MRC's results, to the point that MRC "news" division CNSNews.com devoted an article to it.
Also needless to say, Noyes once again can't be bothered to make the full data public, and he clings to his absurdly narrow definition of "coverage" that is almost certainly constructed to make such results preordained and designed to be misinterpreted and extrapolated as an indictment of the entire "liberal media."
That last point is not a bug, it's a feature -- and the MRC is effectively admitting it. In an Oct. 18 email, the MRC's political activity arm, MRC Action, touted how "MRC Grassroots Army" members can by a T-shirt to "make a festive statement during elections week" falsely extrapolating the coverage study results. It states: "Liberal Media Coverage of Trump in 2018: 91% Negative."
If the MRC didn't intend for its studies to be misinterpreted, it wouldn't be selling T-shirts that misinterpret them.
Posted by Terry K. at 10:02 AM EDT