WND Insists Broaddrick 'Credibly Accused' Clinton Of Rape Despite Lack of Evidence
Topic: WorldNetDaily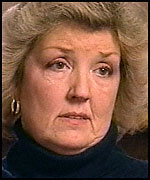 Juanita Broaddrick has apparently decided to live out the rest of her life being a professional victim. An anonymously written Sept. 28 WorldNetDaily article touts her trying to grab a piece of publicity in the midst of the Brett kavanaugh saga:
Juanita Broaddrick, who credibly has accused President Bill Clinton of raping her when he was Arkansas attorney, accused Democrats, as they were set to hear Supreme Court nominee Brett Kavanaugh's accuser Thursday, of employing a "double standard."

Speaking to media outside the Senate building where the hearing was set to take place, Broaddrick said Christine Blasey Ford's claim that Kavanaugh sexually assaulted her in 1982 at a high school party is "no comparison" to what happened to her.

Broaddrick said Ford had no evidence while she had "the who, what, when, where and how and had five people that I told, not even counting the woman who found me 30 minutes after the rape with a swollen busted lip, torn clothes and in a state of shock."

[...]

At her Thursday news conference in Washington, she said she has "20 times more evidence for my rape by Bill Clinton than Dr. Ford has against Kavanaugh."
Yes, Broaddrick held a press conference. Not the mark of someone who's trying to act credible.
Actually, not so much. Vox reminds us that, according to Joe Conason and Gene Lyons' book on the right-wing war against President Clinton, the FBI investigated Broaddrick's allegation and found it to be inconclusive. Even Lisa Myers, the then-NBC correspondent who interviewed Broaddrick in 1999, admited that even Broaddrick conceds that aside from her, there are no witnesses and as far as we know, no one saw Clinton enter or leave Broaddrick's room, or even the hotel, and that two of the people she claimed to have contemporaneously told about the alleged rape reportedly had a grudge against Clinton for commuting the death sentence of their father's killer while he was Arkansas governor.
WND also quoted Broaddrick complaining that Democrats in 1999 "refused to read my deposition to the independent counsel." WND failed to report that Broaddrick also told a different story to independent counsel Ken Starr in the form of a sworn affidavit denying that anything happened.
This doesn't prove that Broaddrick is any more or less credible than Ford. But Broaddrick's eagerness to play the victim for partisan purposes -- even to the point of dismissing another woman's allegation of sexual assault because it was made against a conservative and not someone named Clinton -- does nothing to enhance whatever credibility she may have and arguably diminishes it.
Posted by Terry K. at 6:35 PM EDT
Updated: Monday, October 8, 2018 6:37 PM EDT