Crappy MRC Media Study Watch
Topic: Media Research Center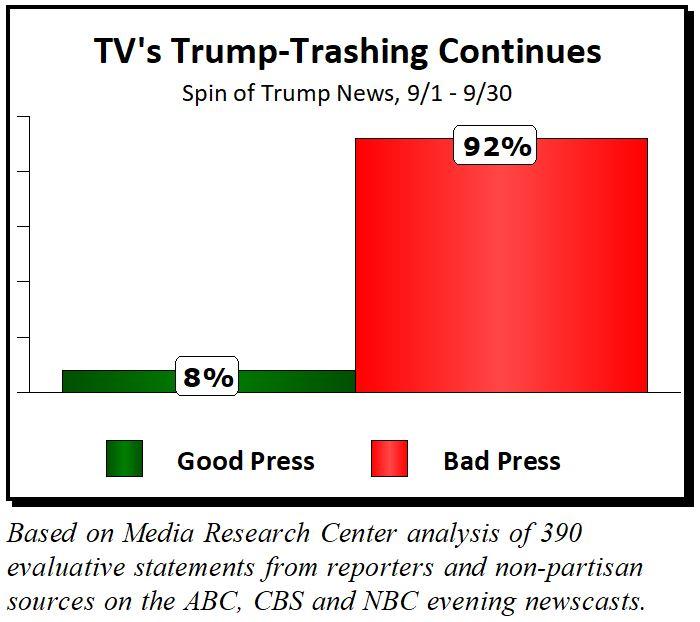 It's another month, so it must be time for another terrible media "study" from the Media Research Center! Take it away, Rich Noyes and Mike Ciandella:
With September's news coverage now in the record books, the latest Media Research Center analysis finds TV's hostility to the Trump presidency continues unabated. According to our analysts, the President received 92% bad press, vs. just 8% good press on the ABC, CBS and NBC evening news shows last month.

Since Inauguration Day (January 20), the broadcast networks have tilted 90% anti-Trump, vs. 10% pro-Trump, not counting partisan statements or neutral/informational coverage. (See our methodology statement at the bottom of this article for details.) While coverage has pivoted from topic to topic — the travel ban, Obama wiretap claims, Russia investigation, ObamaCare repeal, Charlottesville — there's been little variation in the negative tone of coverage each month.

[...]

The networks focused most of their evaluative coverage on immigration, the NFL and the private jet flights of cabinet officials (especially Health and Human Services Secretary Tom Price, who resigned September 29).

Not surprisingly, 100% of the coverage of the expensive jet flights by Cabinet officials was negative, as was nearly all (96%) of the coverage of the administration's immigration policy. On September 5, for example, CBS Evening News anchor Anthony Mason framed the President's decision to end the Obama-era DACA program as "a dream lost for thousands of undocumented immigrants," while a subsequent story by correspondent John Blackstone focused only on the negative reaction of those who benefited from the policy.
In other words: Noyes and Ciandella are once again complaining that stories are being accurately reported. They don't explain what possible "positive" coverage should have been given to, say, those private jet flights by Cabinet officials.
As before, Noyes and Ciandella have ensured their results are biased by narrowly focusing only on network evening newscasts(and pretending they're representative of the entire media) and refusing to acknowledge the existence of neutral coverage, forcing everything into a binary narrative in which everything is either "negative" or "positive" -- their so-called "methodology" states it counted only "evaluative statements which imparted a clear positive or negative tone to the story." And once again, they refuse to back up their work with a complete list of the actual statements they claim to have evaluated.
It's bad research specifically designed to reinforce a political agenda -- the only kind the MRC is apparently capable of doing.
Posted by Terry K. at 2:07 PM EDT