Jesse Lee Peterson's Oprah (And Obama, And Transgender, And Emmitt Till) Derangement Syndrome
Topic: WorldNetDaily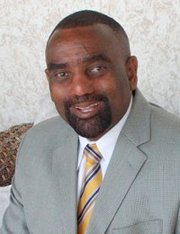 Jesse Lee Peterson began his March 4 WorldNetDaily column by displaying his usual issues with women, this time flipping out over the idea of Oprah Winfrey being president (with some of his usual Obama derangement mixed in):
Oprah is doing the best she can. She is insecure. She is a liberal. She promotes women, but doesn't seem to respect men. She does not stand against evil, but rather, promotes it.

Oprah believes in "racism" (which does not exist, and never has). She said so-called "racist" older white people "just have to die." She supported Barack Obama, the fallen messiah, the worst, most hateful president this country has experienced.

But I'm telling you: Oprah is worse than Obama.

[...]

As a pastor, I can plainly say: God would not call Oprah to run for president. We already had a girly, insecure, black liberal in office – and he nearly destroyed the country! (Thank God for thegreat white hope, President Trump, who is putting us back on track and Making America Great Again!)

You don't want Oprah Winfrey for president. You don't want Kamala Harris or Big Momma Michelle Obama.

If you want to know what liberal black women do when in charge, just look at any ghetto in America, where black women run the homes. The children are out of control. The men are weak. Gangs, drugs and violence rule the areas. Black women vote for liberal Democrats – at a rate of 98 percent in Alabama's recent election – and evil people worship them for doing so.
Or, you know, maybe black women were offended that Roy Moore liked to perv on teenage girls -- something Peterson apparently has no problem with.
From there, it was on to more Obama derangement with a heaping helping of hatred for transgenders:
Oprah props up transgenders and homosexuals as "enlightened" people living "authentically," such as Janet Mock, a black man who thinks he's a woman. Barack Obama pushed transgenders in the military, put them in the wrong bathrooms and locker rooms, gave "sex-change" treatment to criminals, and let Chelsea Manning out of prison early. He made wrong people feel right (as Oprah called it, living "your truth"), but he attacked decent people as wrong.
From there, Peterson bizarrely suggested that Emmett Till deserved to be killed:
After George Zimmerman's acquittal in the self-defense killing of the 17-year-old thug, Oprah called Trayvon Martin the "same thing" as Emmett Till, a 14-year-old black boy mutilated and killed in 1955 for allegedly flirting with a white woman. Till's purported killers were also acquitted. So this deceiving woman helped feed blacks the lie that blacks suffer from "racism" and injustice today, when black-on-white crime and hostility is far more rampant.
"Purported killers"? Actually, the two men who killed Till admitted to doing so after they were acquitted of murder by a biased, all-white jury, and the woman Till allegedly flirted with eventually admitted she lied about Till assaulting her.
From there, Peterson smeared Trayvon Martin's father as "a very weak man," then ranted, "If you care about truth and justice, about men, children, women and families – and especially if you call yourself a Christian – you will never support someone like Oprah."
Of course, if Peterson himself actually cared about truth and justice, he would not have supported a credibly accused child molester's political campaign and slut-shame his accusers.
Posted by Terry K. at 3:13 PM EST