CNS Obsesses Over Hillary Emails, Ignores Trump
Topic: CNSNews.com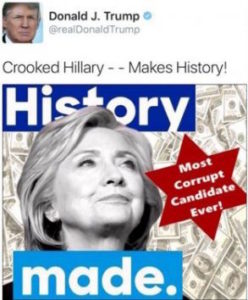 Apparently, CNSnews.com's blanket coverage of Hillary Clinton's emails -- at least 15 original articles over four days, as we've counted -- made CNS reporters too exhausted to put fingers to keyboard to write anything about Donald Trump, even to perform another act of speech stenography.
The only Trump-related story that made it to CNS' front page last week was a July 5 article quoting the Trump campaign denying any anti-Semitic intent in a tweet of a image of Clinton accompanied by a six-pointed star with the words "Most corrupt candidate ever!" despite the fact that the image originated on a website with numerous offensive images on it.
This means the last time CNS did an original article on Trump was June 29, with Susan Jones serving as dutiful stenographer on a Trump speech.
Certainly Trump did nothing newsworthy in the past week -- for example, his continued defense of the offensive image -- and certainly Hillary's emails were at least 15 times more front page-worthy than anything Trump did.
CNS is a "news" organization like they claim, right? (No, they're not.)
UPDATE: So what else did CNS consider front page-worthy that week? A interview by Mark Judge of Kevin Sorbo, the ex-Hercules who's now "playing Joseph the father of Jesus in the film 'Joseph and Mary.'" This means CNS has done more original stories on Kevin Sorbo in the past week than it has on the presumptive Republican presidential nominee.
Posted by Terry K. at 4:22 PM EDT
Updated: Sunday, July 10, 2016 8:44 PM EDT