CNS Dishonestly Smears Obama As Lover of China's "Five-Year Plan"
Topic: CNSNews.com
Yes, we know CNSNews.com puts its right-wing, anti-Obama agenda ahead of the facts. But never so egregiously as it did in the headline of an Aug. 1 article (curiously credited to "CNSNews.com Staff," as if nobody wanted to have their name associated with this): "Obama Wants 5-Year Plan: 'I Guarantee You This Is Not How China' Handles Its Infrastructure."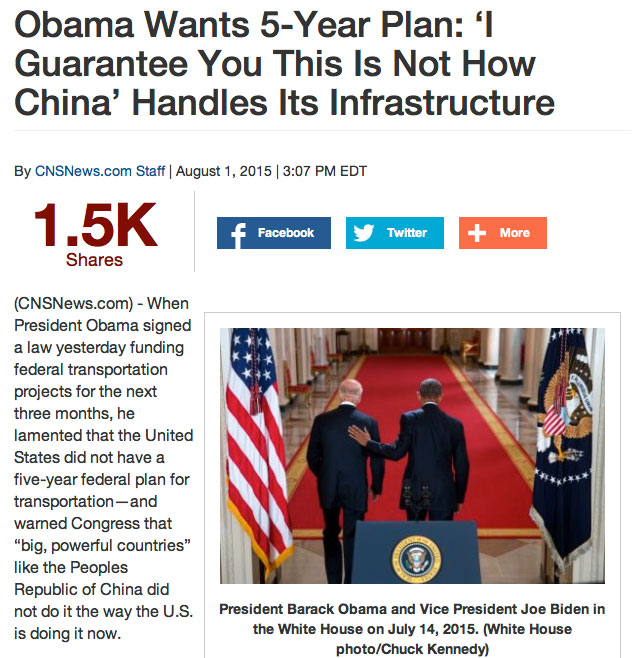 We can guarantee you that's not how a real news operation, staffed by actual journalists instead of ideologues, would have handled that headline.
The implication is that Obama is no different than a Red Chinese dictator who wants meaningless "five-year plans" to create the illusion of progress as in the old Soviet era. In fact, as the speech the article reproduces makes clear, Obama was speaking after signing a three-month extension of the current funding plan for transportation needs in the U.S. Obama said:
Well, I am about to sign a three-month extension of our highway funding. And that's a good thing, because if this wasn't in front of me and ready for signature, we would end up having projects all across the country that would be closing after midnight.

On the other hand, we have now made it a habit where instead of five-year funding plans for transportation, instead of long-term approaches where we can actually strategize on what are the most important infrastructure projects, how are they getting paid for, providing certainties to governors and mayors and states and localities about how they're going to approach critical infrastructure projects -- roads, bridges, ports, airports -- instead, we operate as if we're hand-to-mouth three months at a time, which freezes a lot of construction, which makes people uncertain, which leads to businesses not being willing to hire because they don't have any long-term certainty. It's a bad way for the U.S. government to do business.
So what Obama is talking about is a "five-year" funding plan. And these "five-year plans" CNS is sneering at is how the federal government has handled transportation spending for nearly 40 years, including under Republican presidents. The Center for Climate and Energy Solution summarizes:
Since 1978, Congress has reauthorized the federal transportation program as part of a larger multi-year surface transportation law.The HTF funded only highways until 1983, when Congress created the Mass Transit Account, and in later years added bicycle/pedestrian projects, recreational trails, and funding for freight and passenger rail projects. Until 2008, the HTF was funded exclusively from highway- user fees, including fuel and vehicle fees.

The two most recent reauthorization laws are called SAFETEA-LU and MAP-21. SAFETEA-LU was enacted in 2005 and was intended to expire in 2009. While working on a multi-year reauthorization, however, Congress passed short-term extensions of SAFETEA-LU nine times. The current multi-year reauthorization, MAP-21, was enacted in 2012 and is set to expire on October 1, 2014, unless Congress reauthorizes the program.
MAP-21 has been extended twice since October 2014, and what Obama just signed is the third extension that will continue MAP-21 another three months.
And CNS fails to mention that one key reason there isn't a new transportaion plan is because of the Republicans that control the House and Senate. Politico reports:
There are emerging divisions between House and Senate GOP leaders, who now have fewer than six weeks to deal with a vexing highway problem that's been unsolved for seven years and costs billions just to keep on life support past July 31.

In the House, Republicans have basically given up on finding the tens of billions of dollars they'd need for a long-term fix for the nation's crumbling roads and bridges. Instead, they're mulling how to pay for the latest punt. But on the other side of the Capitol, Senate Republicans refuse to admit defeat, even though they have yet to come up with the huge sums of money they'd need for a major extension.

Politico also notes that some Republicans are in favor of one of those hated "five-year plan" type things: "Senior lawmakers say they are aiming for a funding bill that covers up to four years, which would cost as much as $60 billion just to extend current highway spending levels."
Oh, and Obama cited the decidedly non-communist Germany as another example of a country that doesn't fund transportation this way. But strangely, that didn't make it into CNS' headline.
But hey, since when does the truth matter if there's a cheap political attack to be made?
By the way, this article was presented as "news," not the dishonest opinion that it is.
Thank you, Michael Chapman, for keeping CNS the hateful right-wing propaganda mill that Brent Bozell apparently hired you to do.
Posted by Terry K. at 7:40 PM EDT