WND's Flaherty Mocks The Idea of White People Rioting To Cover His Race-Baiting
Topic: WorldNetDaily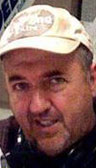 Colin Flaherty -- WND's resident race-baiter obsessed with "black mob violence" finally finds a riot that black people didn't commit:
In Newark, Del., Monday night, police dispersed more than 3,000 rowdy teenagers who were just blowing off some steam at a "Shmacked Tour" party event.

Everyone was white. There might have been a few Asians here and there. But white was the color of this crime.
But the point of Flaherty's article is to mock his critics for his race-baiting obsession:
News of the white riot should provide some comfort to pundits at MSNBC and other liberal outlets. They insist that WND's coverage of black mob violence – also documented in "White Girl Bleed a Lot: The return of racial violence to America and how the media ignore it" – is distorted because the news site and book ignore racial violence from white people.

Even the most devoted denier of black mob violence has to admit white mob mayhem is harder to find. Even so, contrasted with many of the more than 500 examples of black mob violence in WND and White Girl Bleed a Lot, this "riot" is something of a disappointment:

No fractured skulls.

No Apple picking.

No panicked calls to 911.

No bricks through storefronts.

No bottles thrown at cops.

No murders.

No stabbings.

No kick downs.

No bloody faces.

No broken jaws.

No one in the hospital.

No gunfire.

No locks in socks.

No permanent brain damage.

No racist threats.

No beating old people.

No kicking pregnant women.

No baseball bats in the face.

No robberies.

No pushing people into moving cars on a busy street.

No toddler taunting.

Just one measly car fire. And a couple of people jumped on cars.

There was some public urination. And a few guys dropped their drawers, displaying their tighty whities. Other than that, a few parents wondered what videos of their children acting stupidly were doing up on the Internet.

You call that a riot?
Flaherty clearly ignores riots when his agenda warrants. Otherwise, he would've told us about an incident in Huntington, Beach, Calif., earlier this year when a crowd at a surfing competition went wild. Much of the crowd appeared to be white.
Flaherty has a more dishonest take on bashing his critics in a Sept. 14 WND op-ed:
Two things caused me to write about black mob violence: One, I saw a ton of black mob violence and black-on-white crime happening all over the country. When Thomas Sowell wrote about "White Girl Bleed a Lot," he said the problem was far worse than what he thought.

That was a year ago. Today, I know the problem is far worse than I thought it was when The Great Doctor Sowell wrote that column.

The second thing that caused me to write the book and articles is even crazier than the black mob violence. It is the people who ignore, condone, excuse and even deny it is happening. The deniers are the truly crazy ones.

[...]

Once I started paying attention, I noticed black mob violence was happening all over the country in cities big and small – in places where you might expect it, like Baltimore and Philadelphia and Washington, D.C. But also places like Minneapolis, Indianapolis, Seattle, Portland, Greensboro, Peoria.

Places that if you did not live there, you would never know or even suspect it was happening. And even lots of people who live in these places did not know because their local media did not tell them.

[...]

Multiply that episode and denial by 500 – many on video – and that is what "White Girl Bleed a Lot" is about, and why so many deniers are receiving books as Christmas presents.
Of course, if "black mob violence" is all you're looking for, that's all you're gonna find, even if you have to goose the numbers by including dogs and white people.
But the really dishonest thing Flaherty has done is promote his body count without any context. Over what period of time did those 500 incidents take place? What relation do they have to overall crime rates? Flaherty never says.
That's why people see Flaherty's obsession for what it is -- race-baiting, pure and simple. And that's another reason why nobody believes WND.
Posted by Terry K. at 12:55 AM EDT