We Still Don't Know Whether Farah Repented On 9/11
Topic: WorldNetDaily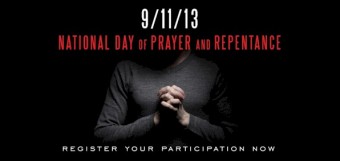 A Sept. 14 WorldNetDaily article by Michael Thompson is a roundup of boss Joseph Farah's "National Day of Prayer and Repentence" three days earlier. But there are some holes in the self-aggrandization.
Thompson claims "an estimated quarter of a million people across the nation this year participated in the first 9/11 National Day of Prayer and Repentance," but he offers no proof to support this claim. Then he quotes Jonathan Cahn -- whose prophecy book "The Harbinger" was retold as a WND-produced video-- claiming that "It was told me [sic] that an estimated 250,000 people or more were dedicating 9/11 as a day of prayer, intercession and repentance." Again, there's no explanation of who told Cahn this or how that number was derived.
Thompson also repeats previous quotes from Farah about his little event, but there's no evidence that Farah used the day to do any repenting of his own, specifically the sins he has committed against President Obama by publishing lies and dishonest claims about him and his administration.
If Farah didn't repent, what moral standing does he have to demand repentence from anybody else?
That's the problem with having a shameless liar inspire a day of prayer -- there's a good chance he's lying about how many people took part.
Posted by Terry K. at 2:53 PM EDT