The MRC Flips Over Elon Musk, Part 3
As Elon Musk wavered on completing his deal to buy Twitter over the summer, the Media Research Center wavered on him -- though it eventually returned to its usual hero-worship mode.
By Terry Krepel
Posted 11/9/2022
---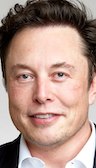 Elon Musk
The Media Research Center's hero worship of Elon Musk was running on all cylinders in early summer -- it was still cheering his apparent all-but-done deal to buy Twitter and fawning over every pearl of alleged wisdom that tumbled out of his mouth. Cracks were beginning to show over the Twitter deal, though; a June 28 post by Autumn Johnson noted that "Tesla CEO Elon Musk reportedly told Twitter he needs more raw data from Twitter to determine the number of bot accounts on the platform." On July 6, though, Jeffrey Clark gushed that Musk "mocked Twitter's out-of-control censorship in an American Revolution-themed post on Independence Day," before going on to complain that right-wing self-help guru Jordan Peterson for a transphobic tweet about actor Elliot Page (though, as per MRC style, he didn't explain why Twitter does not have the right to enforce its terms of service on its users).

When Musk pulled out of the deal to buy Twitter on July 8, Brian Bradley wrote what was effectively a press release for Musk:
Twitter refused to provide information on its fake or spam accounts, so Elon Musk is canceling his plan to buy the platform, according to a letter sent by Musk's legal team to Twitter.

Musk asked Twitter CEO Parag Agrawal to show evidence of Twitter's claim that less than 5 percent of its accounts are fake or spam accounts before following through with purchasing the platform, according to a May 17 tweet. Musk said he believed that 20 percent of platform accounts were fake or spam.

Information on Twitter's fake or spam accounts "is fundamental to Twitter's business and financial performance and is necessary to consummate the transactions contemplated by the Merger Agreement because it is needed to ensure Twitter's satisfaction of the conditions to closing, to facilitate Mr. Musk's financing and financial planning for the transaction, and to engage in transition planning for the business," the letter from Musk's legal team says. "Twitter has failed or refused to provide this information."
That's it -- Bradley made no effort to tell Twitter's side of the story and simply assumed that whatever Musk said was correct.
Meanwhile, Musk's life outside Twitter was getting messy: one of his children changed gender identity and sought a name change because "I no longer live with or wish to be related to my biological father in any way, shape or form" (how terrible of a father do you have to be when you're among the world's richest people and one of your own children wants to sever ties with you?). He got into a war with the MRC's beloved Donald Trump; Musk said it was time for Trump to "hang up his hat & sail into the sunset" and denied ever voting for him, to which Trump responded by calling him "another bullshit artist" who begged for government subsidies from him while he was president. Musk also failed to respond to his mother tweeting him a happy birthday.
The MRC was silent on those things; when it was revealed that Musk has yet another baby mama -- fathering twins with an executive of one of the companies he owns -- it did grudgingly weigh in on that. Tierin-Rose Mandelburg complained in a July 11 post that "Former View Host Meghan McCain just low key put Elon Musk and Nick Cannon on blast in her op-ed for the Daily Mail, calling their baby making plans 'dystopian.'" (Cannon has eight children by five women.) The MRC used to look down on such immoral behavior; instead, Mandelburg cheered it by insisting that the situation "wasn't as creepy as McCain pointed out" and, hey, at least they didn't cause any abortions (that we know of): "People should get pregnant if and when they're ready to, but you have to give Musk and Cannon credit too. In a world that has celebrated the slaughter of the unborn so publicly as of late, at least these celebrities support new birth!"
Meanwhile, things were percolating on the Twitter front as well. Twitter quickly assembled a legal team to decide how to respond to Musk's attempt to terminate the deal, and on July 13, the company sued Musk to force him to complete the deal. Oddly, that didn't draw a response from the MRC. It wasn't until Musk made plans to counter-sue -- and after it was reported that Musk had an affair with the wife of Google co-founder Sergey Brin -- that Catherine Salgado devoted a July 19 post to the legal aspect, which heavily relied on the right-wing New York Post for its information.
The MRC didn't address the issue again until a July 27 post by Johnson noting that "Twitter has scheduled a shareholder vote after Musk announced he wanted to pull out of his deal to buy the company," which copied-and-pasted from Bradley's earlier PR piece to fill it out.
It sure seems like Musk's luster has dimmed from the MRC now that he's trying to back out of his Twitter deal and his personal life becomes a mess in ways that the MRC's usual moral scolds can't quite tolerate.
The MRC started picking up the pace shortly after this (perhaps bothered that we blogged about it), embracing Musk's defense of backing out of his Twitter deal and bashing Twitter for trying to enforce it. Autumn Johnson complained in an Aug. 2 item about the latter:
Twitter is figuratively dragging Elon Musk's friends to court.

The Washington Post on Monday reported that Twitter asked Musk's friends for "checklists, timelines, presentations, decks, organizational calls, meetings, notes, recordings" and any information about bot or spam accounts on the platform.

The subpoenaed friends include investors Marc Andreessen, David Sacks, Jason Calacanis and Chamath Palihapitiya.

Joe Lonsdale, another Musk associate, also received a subpoena but said he had "nothing to do" with the transaction.
Johnson lovingly detailed Musk's countersuit against Twitter in an Aug. 5 post:
In his countersuit against Twitter, Tesla CEO Elon Musk alleges that the company misled him about the number of spam accounts on the platform.

Insider, which obtained a copy of the countersuit in advance of the October trial, reported Thursday that the 146-page countersuit claims Twitter misrepresented its user metrics to Musk and his team.

NewsBusters reported last month that Musk would file a countersuit after he was sued for backing out of the deal to purchase the platform for $44 billion.

According to Insider, the countersuit says that Twitter's lawsuit to enforce the deal is "filled with personal attacks against Musk and gaudy rhetoric more directed at a media audience than this court" and "is nothing more than an attempt to distract from these misrepresentations."

"Twitter played a months-long game of hide-and-seek to attempt to run out the clock before the Musk Parties could discern the truth about these representations, which they needed to close," the lawsuit reportedly says. "The more Twitter evaded even simple inquiries, the more the Musk Parties grew to suspect that Twitter had misled them."
Johnson censored mention of Twitter's response to Musk's countersuit.
Johnson served up more Musk stenography the next day, touting how he "tweeted early Saturday that his deal to purchase Twitter for $44 billion will go through if the company backs up its claims about its number of spam accounts."
Johnson continued being a Musk stan in an Aug. 8 post:
On Saturday, Elon Musk challenged Twitter CEO Parag Agrawal to a public debate in which the Agrawal would be invested to prove his claims about the number of bot accounts on the platform.

"I hereby challenge @paraga to a public debate about the Twitter bot percentage," Musk tweeted. "Let him prove to the public that Twitter has <5% fake or spam daily users!"

He then pinned the tweet to his profile and polled Twitter users on whether Twitter's claim that less than five percent of its monthly daily active users are "fake/spam" is true. The options were "Yes" with three robot emojis or "Lmaooo no."

Approximately 64.9% of users voted no, indicating that survey participants think Twitter is not telling the truth about the bot accounts. In reference to the poll, Musk then proclaimed that "Twitter has spoken."
Johnson didn't explain why Musk thinks it's a good idea to handle a legal dispute through a debate and a Twitter poll.
Christine Salgado complained an Aug. 10 post that Twitter was doing actual legal-related things to the lawsuit in by subpoenaing Oracle co-founder Larry Ellison, going on to attack "the leftist leadership of Twitter." She didn't provide proof that Twitter's leadership is "leftist."
Johnson returned to cheer a minor court victory for Musk in an Aug. 17 post:
On Monday, the Delaware Court of Chancery ruled that Twitter must give Elon Musk documents from its former head of consumer product.

The Verge reported that although Musk requested documents from 22 Twitter employees, the court granted just one of his requests. According to an order obtained by Vox.com, Judge Kathaleen McCormick ordered Twitter to "collect, review, and produce documents from Kayvon Beykpour."

The court ordered that Twitter produce documents from a previously agreed 41 custodians in addition to Beykpour. "The plaintiff is not required to collect, review, or produce documents from any other of the defendants' proposed 22 additional custodians," the order reads. "The plaintiff need only collect, review, and produce documents from the 41 custodians to which plaintiff has agreed to date and Mr. Beykpour."

Twitter fired Beykpour in May when company CEO Parag Agrawal decided to "take the [company] in a different direction," Beykpour tweeted.
Johnson also continued to complain that Twitter was doing the same thing Musk is doing in seeking information from witnesses in an Aug. 20 post under the headline "Twitter Is Harassing Everyone Musk Knows About Deal," repeating how Musk "reportedly complained that Twitter is requesting information from people who know nothing about his deal to purchase the platform." Of course, there's no reason to trust Musk's words at face value, yet Johnson does anyway.
There was still some old-fashioned Musk hero worship happening as well. An Aug. 17 post by John Simmons was devoted to recounting how Musk "jokingly claim[ed]" to offer to buy the Manchester United soccer team.
Meanwhile, the MRC censored the fact that Musk unironically contributing an opinion piece on using technology "to help achieve a better future for humanity" to a magazine published by the Chinese government agency that oversees online censorship -- you know, the thing Musk proclaims he is going to end by buying Twitter. There was also no mention of the fact that the creator of the online tool Musk is citing as evidence that Twitter has more bot accounts than it claims says that the tool has its limitations and was surprised that the multibillionaire Musk didn't spend actual money to build a more sophisticated tool or hire experts to prove his claim.
Pro-Musk whistleblower
The MRC found a new ally to champion Musk in the form of a former Twitter employee. Joseph Vazquez gushed in an Aug. 23 post:
A former Twitter executive just blew the whistle against the Big Tech platform for allegedly ignoring serious cybersecurity problems and apparently misleading prospective owner Elon Musk on spam bots.

Both CNN and The Washington Post released stories documenting explosive allegations by former Twitter head of security Peiter "Mudge" Zatko.

Zatko's whistleblower complaint, which both outlets reported was sent to Congress and other federal agencies, warned about "'extreme, egregious deficiencies' in its defenses against hackers, as well as its meager efforts to fight spam," The Post summarized.

The complaint itself alleges that Twitter was "Lying about Bots to Elon Musk." The Tesla CEO has been in a back-and-forth legal battle with Twitter over his announced intent to abandon his $44 billion acquisition bid after claiming the platform misled him about the amount of spam bots on the platform.
Unusually for the MRC, Vazquez did surprisingly report both sides of the story:
A Twitter spokesperson lashed back at Zatko in comments to CNN, in an apparent attempt to cover the company by painting him as an incompetent employee. "'Mr. Zatko was fired from his senior executive role at Twitter for poor performance and ineffective leadership over six months ago," the spokesperson said.

The company also added Zatko's complaint was part of a "'false narrative'" and was "'riddled with inconsistencies and inaccuracies, and lacks important context.'"
The same day, a post by Jeffrey Clark cheered that "Musk subpoenaed former Twitter CEO Jack Dorsey, intensifying his ongoing legal battle with the social media giant over his intent to bail on his initial $44 billion acquisition offer," touting the whistleblower as"another possible boon for Musk's case against Twitter" and gushing that "Musk seemingly referenced the whistleblower news with a photo of Disney character Jiminy Cricket whistling: 'Give a Little Whistle.'"
Clark returned for an Aug. 26 item complaining that CNBC wasn't taking Zatko seriously enough for purposes of Musk and its own right-wing anti-"big tech" narratives:
Just one day after whistleblower Peiter "Mudge" Zatko made bombshell claims that Twitter has been "lying" about its security practices, CNBC appeared to downplay Zatko's complaint in an interview. The outlet gave a platform to a law professor who absurdly claimed Zatko "basically" agreed with Twitter on how it counts users.

Squawk Box co-anchor Andrew Sorkin framed Zatko's Twitter bashing as an inflated crisis: "This, in some ways, seemed like a bombshell," Sorkin hedged. "Do we need to look at the bots the way Elon Musk is asking, or don't we?"

Sorkin editorialized despite Zatko making several apparent revelations earlier this week about how Twitter calculates the percentage of spam accounts versus regular accounts on its platform. Zatko directly stated in a letter to Congress that Twitter was "Lying about Bots to Elon Musk."

Sorkin's guest, Tulane law professor Ann Lipton, argued on the Aug. 24 Squawk Box that Zatko's Twitter bashing was actually "good for Twitter."

Lipton seems to have cherry-picked a single phrase from Zatko's redacted whistleblower complaint: "Twitter is already doing a decent job excluding spam bots and other worthless accounts from its calculation of mDAU." But Lipton omitted the fact that Twitter's mDAU calculation is designed to exclude spam bots.
Then it was time for more hero worship; an Aug. 29 post by Clark drooled over how Musk "called for more oil and gas production in order to maintain stability around the world as Europe and the United States suffer through the worst energy crisis in years" and how they "buck an ongoing liberal media obsession over climate change and Biden's war against fossil fuels."

An Aug. 30 post by Autumn Johnson hyped that Musk "sent yet another letter giving Twitter notice that he intends to cancel the deal," adding that "Musk has long questioned the accuracy of the number of 'bot' accounts disclosed by Twitter."

A Sept. 13 post by Brian Bradley hyped Zatko's "BOMBSHELL Testimony!" before a Senate committee, in which he alleged that "Twitter may have employed at least three foreign intelligence agents and kept Chinese Communist Party-linked advertising accounts on the platform despite employee objections." Bradley also made sure to note that "The whistleblower hearing comes amid increased outside scrutiny over the percentage of bots on the platform, as Tesla CEO Elon Musk has moved to exit a planned $44 billion acquisition of the company."

Johnson took Musk's side yet again in a Sept. 14 post on Twitter shareholders approving the deal whether Musk wants to or not:
Despite contentious legal battles, Twitter's shareholders approved Elon Musk's deal to purchase the platform for $44 billion.

The Verge reported Tuesday that the company confirmed it has enough votes to approve the purchase. Musk, however, shows no signs of backing down amid a protracted legal battle with Twitter.

NewsBusters reported in August that the Tesla CEO said the deal will go through if Twitter provides proof that its reported numbers of "real" accounts on the platform are accurate.

"If Twitter simply provides their method of sampling 100 accounts and how they're confirmed to be real, the deal should proceed on original terms," Musk tweeted. "However, if it turns out that their SEC filings are materially false, then it should not."
The next day, Vazquez cheered a right-wing author who praised Musk:
Woke Inc. author Vivek Ramaswamy didn't mince words about the impact the world's richest man had in giving shareholders a voice to fight the censors at Twitter.

The Strive Asset Management executive chairman joined the Sept. 14 edition of Fox News's America's Newsroom and said that even if Tesla CEO Elon Musk's $44 billion acquisition of Twitter doesn't go through, his bid opened new ground for Americans to fight back against Big Tech censorship.

"He has paved the way for shareholders exercising their voice in the boardrooms of these companies," Ramswamy told Fox News anchor Bill Hemmer.

"Most of the owners of these public companies, including Twitter, are the everyday citizens of this country through other funds managed by [left-wing hedge funds] BlackRock and State Street and Vanguard that together, historically, have exercised the vote."
Johnson returned for a Sept. 20 post on Dorsey's deposition, calling it "the latest news in the contentious legal battle that will determine whether the Tesla CEO will be forced to go through with the original $44 billion deal." She then rehashed a lot of anti-Twitter content the MRC has previously published. A Sept. 30 post by Johnson repeated Musk's usual complaints about the number of bot accounts on Twitter.
When Musk suddenly flip-flopped and declared he would buy Twitter at the price agreed to months earlier, the MRC stayed on Team Elon. Joseph Vazquez wrote in an Oct. 4 post:
The world's richest man just shattered the internet again by reportedly agreeing to proceed with his $44 billion acquisition deal for Twitter.

Bloomberg News reported that Tesla CEO Elon Musk is now "proposing to buy Twitter Inc. for the original offer price of $54.20 a share."

The outlet continued: "Musk made the proposal in a letter to Twitter, according to the people who asked not to be identified discussing confidential information." Twitter shares reportedly "climbed as much as 18% on the news, after trading was briefly halted."

MRC President Brent Bozell responded to the news on Twitter: "I can see why Elon Musk would turn his back on the lying leftists at Twitter, but for the sake of free speech I hope this deal still happens."

This new development in the Musk-Twitter saga follows a protracted back-and-forth legal battle between the leftist Big Tech platform and Musk over Twitter's transparency on the amount of bot accounts active on its platform. The whole ordeal caused Musk to initially move to nix the acquisition.
Johnson spouted a few hours later:
Liberals are having an epic meltdown on Twitter after the platform reportedly reached an agreement with Tesla CEO Elon Musk for Musk to finally acquire the platform.

[...]

After the news went public, several prominent liberals expressed apparent outrage over the deal's pending success.

Adam Parkhomenko, a self-described strategist for the Democratic Party, tweeted that Musk would shut liberal accounts down to silence them.

"Elon Musk didn't like that we were all laughing at him for being a gutless chickenshit so he's going to buy twitter and shut us all up," he tweeted.
Neither Vazquez nor Johnson admitted that Parkhomenko was hinting at the truth: As the Washington Post reported, Musk's complaints about too many bot accounts was negated by the fact that he waived due diligence before signing the purchase deal and, as another observer noted, Musk knew all about the bot-account issue before signing the deal but agreed to buy the company anyway, and the only real legal options he had was to pay Twitter billions to back out of the deal or to just buy the company at the price to which he agreed.
The MRC reprised its usual agenda items:
An Oct. 5 post by Clay Waters complained that a New York Times reporter "who shares a censorious streak with many of his tech colleagues, reacted with dismay on the news that space entrepreneur Elon Musk's on-again, off-again courtship of social media platform Twitter is back on again."
Johnson huffed in an Oct. 6 post that "Twitter has reportedly declined Tesla CEO Elon Musk's renewed offer to purchase the platform for $44 billion in an effort to keep the trial going," ignoring the fact that Musk's dishonest, erratic behavior doesn't exactly engender trust.
P.J. Gladnick wrote in an Oct. 7 post that a Politico article was "freaking out" over a "fear that Musk will ditch censorship at Twitter." Of course, what Gladnick calls "censorship" most normal people call "content moderation" done to curtail extremism and improve the user experience -- which Twitter, as a private company, has every right to do (though Gladnick didn't concede that inconvenient fact).
While it was in Musk hero-worship mode, the MRC stayed silent on new Musk controversies, like his apparent communication with Vladimir Putin that resulted in him tweeting a "peace plan" between Russia and Ukraine that would call for Russia to give up Crimea and other land in its country, something that didn't go over well with most freedom-loving people, including one particular Ukranian diplomat. Musk also advised that China absorb Taiwan into a "special administrative zone" like Hong Kong -- after which China awarded tax breaks to Tesla cars being sold in the country. The MRC also stayed silent about Musk taking a shot at Donald Trump's Truth Social operation -- bad news about which the MRC is also censoring -- as a biased right-wing "echo chamber."
Johnson found a new Musk thing to gush over in an Oct. 20 post:
Elon Musk will reportedly eliminate around 5,500 Twitter employees when his acquisition of the company is complete.

The Washington Post reported Thursday that Musk's purchase is a "golden ticket for the struggling company" that will "potentially help[] its leadership avoid painful announcements that would have demoralized the staff and possibly crippled the service's ability to combat misinformation, hate speech and spam."

The report said the layoffs could save Twitter hundreds of millions of dollars, and added that Musk has told insiders that he is paying too much for Twitter.

"'Although, obviously, myself and the other investors are obviously overpaying for Twitter right now, the long-term potential for Twitter in my view is an order of magnitude greater than its current value,'" he reportedly said.
Johnson didn't mention that Musk was the one who agreed to overpay for Twitter, so he really has nothing to complain about, especially since he's more than rich enough that he can easily afford to do so.
The latest from