WND Columnist Blames Christian Bookstore Chain's Demise on Selling 'Heretical' Things
Topic: WorldNetDaily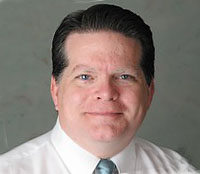 WorldNetDaily columnist Jim Fletcher is normally a hype man for the books published by the same folks who publish his column -- he does this again most recently in a column touting Carl Gallup's new book while failing to mention it was issued by WND -- but he also likes to opine about Christian publishing in general.
He does this in a Feb. 24 column speculating on the failure of the Christian bookstore chain Family Christian Stores. Unfortunately, he decided to blame it on the chain selling things other than the Bible:
A powerful entity, Family was courted by publishers and their sales reps. The result was a multi-headed monster that gouged itself on heretical books and other materials.

The demise of Christian retail and, by extension in my view, the majority of the Evangelical church in this country, came about from a tightly coordinated effort. This ranged from celebrity pastors and ministry heads to publishers and, yes, Christian retail.

The irony is, while Family Christian Stores has imploded, the carcass will simply remain for a while on the highway of "Christian" resources, and the road is well traveled. If books are no longer sold by Family Stores, they will be sold by Amazon, or Saddleback Church, or North Point, or Willow Creek. Et cetera.

You see, a dirty secret of the Evangelical world is that if heretical books no longer have a home in bankrupt retail stores, they live and thrive in conferences, mega-churches, and media.

[...]

At the Family Christian Stores fire sale, one can find books by Jen Hatmaker (a Never-Trumper, socially progressive "evangelical"), Hillsong's Brian Houston and William Paul Young, who wrote "The Shack."

That's just the tip of the iceberg that has rendered the Evangelical community just another glitzy, over-confident Titanic.

Family Christian Stores made a conscious decision years ago to make cash the only real priority. No vetting of books being peddled by publishers and salesmen who were, in some cases, more pagan than Baal. Anything labeling itself "Christian" was allowed in the door, more enthusiastically if the book sold like hotcakes as we used to say.

[...]

It is a sign of our times that when I tell audiences or readers that their best Christian resources are a Bible, pen and notebook, I hear laughter from the audience. It sounds funny, I guess. But it is also the truth. If the American Christian community would study the Bible, pray, and make real disciples, there would be a thriving Christian bookstore on every street corner.
How dare Family Christian try to sell Christian things to Christians to make money! Most people would call that the American way. Of course, in Fletcher's word, anything that doesn't follow a narrow, right-wing interpretation of Christianity is "heretical."
Needless to say, Fletcher's biased analysis overlooks the actual reasons the chain is going out of business. CBN points out that, like most book retailers, Amazon ate into their business and that other chains such as Lifeway and Mardel will likely fill the void; they presumably sell many of the same things Family Christian did.
Christianity Today adds that Family Christian has been in financial peril for years, filing for bankruptcy in 2015, a couple years after buying itself out of private equity ownership and turning itself into a nonprofit company that donated all profits to charity. In order to get out of bankruptcy, though, suppliers reluctantly agreed to write off $20 million of consigned goods to the chain, an act that itself bankrupted a couple of those suppliers.
Patheos blogger Hemant Mehta commented on Fletcher's narrow view of Christianity and Family Christian:
In Fletcher's world, every Christian bookstore would focus on a single book, and only sell other products that point to how amazing that Bible is. No criticism. No questioning. No alternative perspectives.

If Family Christian Stores had just invested more in their KJV-coated bubble instead of trying to reach more people, they would totally be around right now. Economic forces be damned.
Fletcher offers no evidence to back up his suggestion that his extremely narrow view of Christianity constitutes a viable retail model.
Posted by Terry K. at 12:23 AM EST