ConWeb Touted 'Ben-Hur' Remake, Is Silent On How It's Bombing In Theaters
Topic: The ConWeb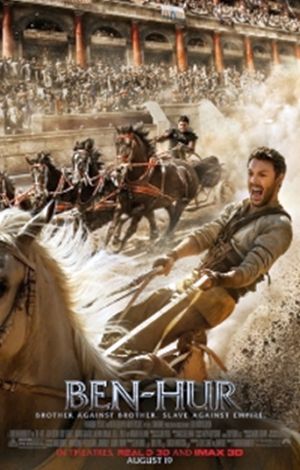 A few weeks back, we documented how both Newsmax, CNSNews.com and the Media Research Center were all shilling for the new remake of "Ben-Hur" and touting its religious bona fides, in line with the producers' aim to make the film appeal to a religious audience.
They weren't the only ones in the ConWeb who signed on as unpaid (or paid) spokespeople for the film. WorldNetDaily got in on the act too:
In an Aug. 15 article, Rusty Wright -- "an author and lecturer who has spoken on six continents" -- rehashed the background of the book that inspired the film and asserted that "'Ben-Hur's' poignant depiction of revenge, reconciliation and redemption generates a powerful message for today's world filled with racial and religious violence, cop killings and more."
George Escobar, who runs WND's film division but is grandiosely described in the headline as a "top film executive," lamented in an Aug. 20 article that "we are in an age of colonization in our politics, theology and mass migrations, fought most visibly within inner-city plantations" before giving the film a gushing review: "Probably more than at any other time, a film such as 'Ben-Hur' is needed. Does it deliver the power and drama of its predecessors? Mostly. Is it relevant for our time? Definitely. Should you go see it? Absolutely."
The reality, however, is that the film is tanking -- badly.
The film made only $12 million its opening weekend and to date has made a little over $20 million in just under two weeks -- very bad for a film that opened wide (3,000+ screens) and cost $100 million to make. Even counting foreign revenue, it's highly unlikely the film will recoup what it cost to make during its theatrical run, making this movie "the bomb of the summer."
YOu won't read about that at WND, CNS or the MRC, though -- none have seen fit to mention the "Ben-Hur" bomb on their front pages the way they promoted the film.
Newsmax, however, made a game attempt to spin the failure with an Aug. 23 article by David Patten, blaming the bad reviews on the "mainstream media" who actually reviewed the film and found it wanting:
The mainstream media is doing such a fine job of heaping coals on the new Mark Burnett and Roma Downey epic, "Ben-Hur," that it might want to be careful. The intensity of their vituperation might just induce movie-goers — particularly faith-oriented ones — to go see what all the fuss is about.

Rolling Stone branded the film "a remake disaster of biblical proportions."

ABCNews.com dismissed it as "a miscast remake that will only appeal to a specific [read Christian] audience." Others were less kind.

If film lovers ignore those reviews and go anyway, however, what they'll see is a picture far different from the one being portrayed in the media as a flop — which explains why some are extolling it.

"I love 'Ben-Hur,'" host Glenn Beck remarked on his program recently. "It is great."
Patten made excuses for producers (and Christian-media faves) Burnett and Downey, whom he baselessly proclaimed to be "Hollywood's No. 1 power couple": "If the film's director and producers are guilty of anything, it is their soaring ambition in trying to boil down a story that took three hours and 32 minutes to relate in the 1959 version — clearly too long for modern audiences – to a little over 2 hours in the remake."
Patten also claimed that "Evangelicals trust Burnett and Downey to handle their cherished biblical narratives with care," ignoring the fact that "Ben-Hur's" main story -- a revenge story involving a Jewish prince forced to become a slave and a climactic chariot race -- is not a "cherished biblical narrative"; it's from a novel first published in 1880. In the book, the crucifixion of Christ is a parallel narrative to the story of Judah Ben-Hur.
Posted by Terry K. at 2:07 PM EDT