WND Columnist Pens Pro-Trump Fanfiction
Topic: WorldNetDaily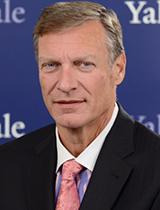 Theodore Roosevelt Malloch is, as the name suggests, a descendant of Theodore Roosevelt (and is apparently better known as just plain Ted when he's not plying his lineage) and former self-proclaimed "global insider" who used to work with the group that puts on the annual meetings of the world's elite at Davos. He's also apparently given up that sort of thing and joined forces with the anti-elitist WorldNetDaily, which published his new book bashing the whole Davos thing.
Malloch is also a huge Donald Trumpfanboy, and WND is giving him a platform to let his Trump flag fly. His Jan. 28 column was pure fanfiction:
It is not too early, now that he is sweeping the electorate, to ask the not altogether unrealistic question: what exactly would a Trump government do, first? Imagine this creation narrative. In the Beginning …

On the first day the new president – in a year's time, after his swearing in – would do the three things he promised he would do immediately: end ALL of Obama's executive orders, stop Obamacare and institute Health Savings Accounts, and cut the head off of the snake called ISIS. In other words, from Day 1 we would have an acting president, again. His concrete plan to defeat, not just contain, the caliphate in Syria would be unleashed in a reign of power coordinated with many other willing partners. It will be called Operation Roaring Lion (borrowed from Hosea 11:10), and its objective will be a quick (one month) end to that plague.

Day 2 would see the complete emasculation of all the costly and nonsensical laws and regulations that impale Americans and their business opportunities. The day would also see a drop in the corporate tax rate to the lowest level in decades. Trump would then stop corporate inversion and bring back over a trillion dollars of American investment from overseas to be invested in new jobs here. Late in the day he would put a shovel in the earth, breaking ground for the new wall on our border with Mexico, to be paid for by a tax on Mexican oil. The wall will be technologically impossible to penetrate. At bedtime he would change America's broken visa immigration program.

[...]

Day 6 will see the end of both the Department of Education and its Common Core, and the curtailment of the EPA. All funding for education will be reallocated to the states. This decentralization and empowerment of people, where they live, will be a continuing theme of Trump's administration as an act of subsidiarity. Private education will be funded at the same level as public education, and parents will be given the freedom of choice.

The country will be turned around in six days.

On the seventh day, as in the biblical Genesis story, after Trump bans late term abortion and defunds Planned Parenthood, the president and the nation will rest. The president will encourage all Americans, as is our tradition, to give thanks to God, ask for forgiveness, be generous and attend the religious institution (or none) of their choosing. Then God blessed the seventh day and made it holy, because on it he rested from all the work of creating that he had done (Genesis 2:3).
Malloch doesn't offer evidence that Trump has an actual platform that would back up these claims or detail how exactly he intends to accomplish them as immediately as Malloch longs them to be done.
Malloch tones it down a bit in his Feb. 5 column, but it's still pretty fanfiction-y:
Trump is a strict constitutionalist and has no expectations to usurp power or to grow the government. To the contrary, he has said he will give more powers and redirect funding to the states and use checks and balances as they were originally conceived. He will limit both his own executive powers and ask Congress and the courts to do the same. In other words, power will be returned "to the people." This is the kernel of Trump's populism, and it is as basic as the Boston Tea Party or the shots fired in Lexington by farmer militiamen.

All said, Trump's government will be smaller, more efficient, more frugal and use management principles and best practices, so as to be more excellent, i.e., we will actually get the services for which our hard-earned tax monies were contributed.

Under Trump, we will see limited government for the first time in 60 years.
Again, Malloch points to no position paper or TV appearance in which Trump actually advocates this or explains how he will go about it.
Malloch reminds us of Doug Wead, who used to write for Newsmax his enthusiastic support for Ron Paul. Wead is, perhaps unsurprisingly, writing on occasion for WND now, this time mostly slobbering over Rand Paul (for whose presidential campaign he has served as a senior adviser).
Posted by Terry K. at 12:09 AM EST