MRC Pretends Anti-Abortion Activists Are Real Journalists
Topic: Media Research Center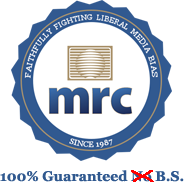 Mike Ciandella writes in a Jan. 27 NewsBusters post regarding thte indictment of anti-abortion actiivsts at the so-called Center for Medical Progress for deceptive tactics in their secretly filmed anti-Planned Parenthood videos:
Undercover journalists from both sides of the political spectrum could be severely limited by a Texas grand jury indictment against pro-life activists. The charges are so sweeping that they could affect the entire journalism industry, everything from the network news to environmental activists.

Yet, out of the three broadcast evening news shows, only CBS Evening News has noticed the "dangerous precedent" that this indictment could have for journalism. NBC Nightly News devoted 70 seconds to the ruling, but failed to mentioned any negative consequences for the industry.
Ciandella went on to repeatedly assert that "this ruling wasn't just bad for pro-lifers or conservatives, it was bad for all undercover journalists" and that there would be "repercussions against undercover journalism" if the indictment stands.
Yes, this would be an issue -- if David Daleiden and the CMP were actual journalists. But they're not.
Right Wing Watch points out that CMP "did not originally describe itself as a journalistic outlet. It was only around the time the group started releasing its videos that it updated its website's 'About Us' page to say that it was comprised of 'citizen journalists.'" Further, CMP officials have publicly stated that its goal is to destroy Planned Parenthood, not to tell a story fairly or objectively, and Daleiden himself said his goal was "obtaining criminal prosecutions" against Planned Parenthood officials and ultimately to "put an end to the abortion industry in America." That's not journalism.
Right Wing Watch sums up: "Daleiden is not an 'investigative journalist.' He is an anti-abortion activist who is now trying to pose as a journalist." That's a big difference -- not that Ciandella is himself objective enough to explain it to his readers.
Posted by Terry K. at 5:56 PM EST