CNS Hides 'Duck Dynasty' Guy's Threat Against Gay Marriage Supporters
Topic: CNSNews.com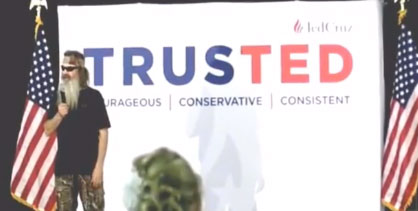 Eric Scheiner writes in a Feb. 2 CNSNews.com blog post:
Phil Robertson of 'Duck Dynasty' fame called same sex marriage "wicked" and "sinful" over the weekend.

Robertson addressed the crowd at a Ted Cruz rally in Iowa City on Sunday.

"Don't you understand when a fella like me looks at the landscape and sees the depravity, the perversion – redefining marriage and telling us that marriage is not between a man and a woman, c'mon Iowa, it's nonsense," Robertson said.

"It is evil. It's wicked. It's sinful," he continued.

Robertson previously caused controversy in 2013 by telling GQ magazine that homosexuality is a sin and immoral.
Scheiner curiously omits what Robertson says next, even though it's in the video attached to his item: "We have to run this bunch out of Washington, D.C. We have to rid the earth of them."
If a liberal said "we have to rid the earth" of people he or she disagreed with, CNS (and its Media Research Center parent) would be all over it. But if a conservative like Robertson says it, CNS will give him a pass and even helpfully bury the threat.
Posted by Terry K. at 6:34 PM EST