MRC Denounces Colbert Joke, Omits The Setup
Topic: Media Research Center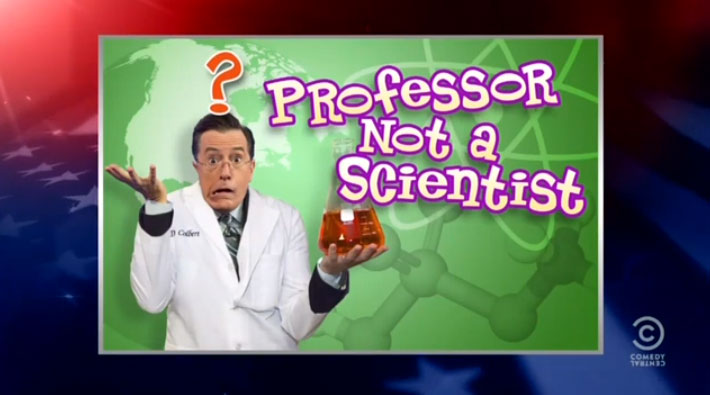 Joseph Rossell is all in a huff in his Nov. 7 Media Research Center item over a "Colbert Report" segment on climate change:
Climate deniers apparently have a simple, albeit crass, message for the world: "We don't know what the fuck we're talking about."

At least, that's what Stephen Colbert, host of Comedy Central's "The Colbert Report" and soon-to-be host of CBS' "Late Show," said during his show Nov. 6, 2014. Colbert was mocking Senator Jim Inhofe, R-Okla., who will soon become chairman of the Senate U.S. Environment and Public Works Committee.

Colbert said, "Everyone who denies climate change has the same stirring message: We don't know what the fuck we're talking about. I hope that these conservative leaders can inspire all the children out there watching to think to themselves, 'Hey, maybe someday I could grow up to be not-a-scientist."

Colbert went on to tell children that they can "completely lack any understanding of science and then grow up to be the chairman of the Senate Environmental Committee."
Rossell is so angry with Colbert over his joke that omits the setup for it that puts it in context.The statement that climate deniers "don't know what the fuck we're talking about" comes after a video clip of climate deniers who admit they're not scientists. That setup is in the clip accompanying Rossell's post, but he doesn't mention it.
And indeed, Inhofe has no scientific background he can bring to his job as a senator. Before becoming a politician, he worked as a real estate developer and an insurance executive. And his anti-global warming book, "The Greatest Hoax," was published by WorldNetDaily, not exactly known for their rigorous peer review in scientific publishing.
Rossell then insists that it really isn't true that the vast majority of people who understand climate science believe global warming is happening and is at least partially human-caused:
Although the media recently touted the claim that 97 percent of scientists agree on anthropogenic (man-made) climate change, this statistic is massively doctored and inflated. Marc Morano, the publisher of Climate Depot and former staff for Inhofe and the U.S. Senate Environment and Public Works Committee, has a list of his own, with more than 1,000 scientists who disagree with the "accepted" theory of anthropogenic climate change. Yet, media outlets were quick to promote the 97 percent statistic without question.
Rossell is misleading. The issue isn't what "scientists" believe, it's about what climate scientists believe, and Rossell is falsely conflating the two. And as we've also noted, relatively few of the "scientsts" on Morano's list have any demonstrated expertise in climatology. Which means Morano's count is at least as "massively doctored and inflated" as he claims the consensus count is.
Posted by Terry K. at 8:13 PM EST
Updated: Tuesday, November 11, 2014 8:14 PM EST