MRC Mum on Holes In Attkisson's Claim Of Computer Hacking
Topic: NewsBusters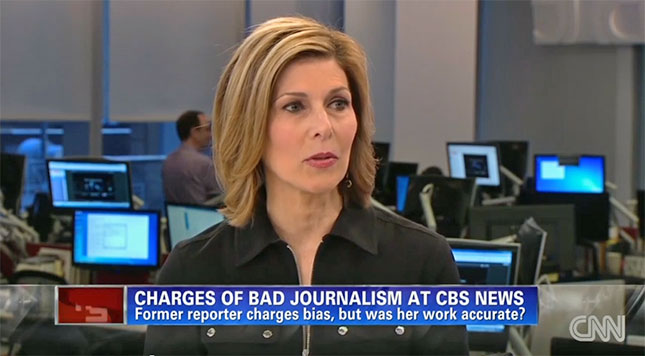 A Nov. 6 NewsBusters post by Melissa Mullins touts a Hollywood Reporter interview in which former CBS correspondent Sharyl Attkisson discusses the alleged hacking of her computer, and how a "legal and forensics team" supposedly found evidence of "highly sophisticated remote intrusions into my personal and work computers by someone using software proprietary to a government agency…either to the DIA, CIA, FBI or NSA over a period of time."
Mullins doesn't mention, however, that significant doubts have been raised about Attkisson's claim.
After Attkisson posted an online purporting to show her computer being hacked in real time, Media Matters consulted computer experts who said the apparent culprit was a stuck backspace key.
Attkisson has also changed her story on the alleged hacking. She originally claimed that an anonymous source had given her the identity of the person who had hacked into her computer, but in a later interview, Attkisson said she didn't know who the hacker may have been, but "I just know that there's some government tie."
Mullins doesn't mention she was asked about the video of the supposed hacking video during the Hollywood Reporter interview. Despite originally presenting the video as evidence of hacking, she backed off it in the interview, dismissing her own video as "a video anecdote, something that happened along the way. It has nothing to do with the forensic evidence and the analysis. It's just something interesting, a punctuation mark of things that were happening."
Mullins also uncritically repeats Attkisson's claim that she's not biased, which ignores the fact that she has worked exclusively for conservative outlets -- and has been championed by conservative groups like the MRC -- since leaving CBS. If she didn't have a right-wing bias, wouild that be happening?
Posted by Terry K. at 7:08 PM EST