MRC Can't Decide Whether Ben Stein's Obama Smear Is Offensive Or Not
Topic: NewsBusters
A Nov. 4 NewsBusters post by Jeffrey Meyer highlighted Ben Stein's comment that President Onbama is "the most racist president there has ever been in America," calling the remark "offensive" and lacking in historical accuracy and noting that the hosts of ABC's "The View" "rightly criticized" Stein for the remark. Meyer then complained that "View" co-host Rosie O'Donnell was "indicting all of Fox News for one man's offensive comments," as if Meyer's employer, the Media Research Center, has never pulled that same trick.
Meyer's view that Stein's smear of Obama is offensive, however, appears to be held exclusively by him among his Media Research Center cohorts. For thte past few days, the lead item in the NewsBusters "Editor's Picks" box has been, yes, Ben Stein's smear of Obama: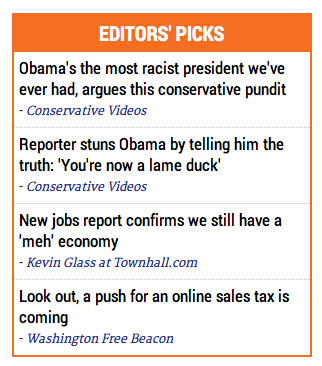 The "Editor's Pick" links to a Conservative Videos
item
that uncritically promotes Stein's remark.
As we've seen with Rush Limbaugh and Sandra Fluke, the boys at the MRC generally approve of liberals being smeared and denigrated.
Posted by Terry K. at 2:22 PM EST