Newsmax Falsely Portrays Pat Caddell As A Democrat
Topic: Newsmax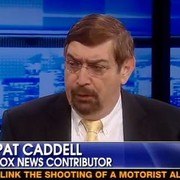 A Nov. 5 Newsmax article by Greg Richter introduces Pat Caddell as a "Democratic pollster" who's denouncing Harry Reid. But he's not a Democrat -- or at least he hasn't been in decades.
Caddell hasn't done anything for Democrats in years -- as we've pointed out, he's frequently seen on right-leaning Fox News where, as Salon's Alex Pareene notes, "he'll reliably repeat every idiotic right-wing talking point that comes down the pike." Caddell also served as a consultant on an anti-Obama film made by right-wing group Citizens United.
It seems that Newsmax has fallen into the Fox News pattern of presenting Caddell as a "Democrat" even though they know he will reliably bash Democrats at every opportunity. That's dishonest journalism, and Richter and Newsmax should know better.
Posted by Terry K. at 3:42 PM EST