WND's Vliet Goes Doctor-Shopping To Help Her Fearmonger About Ebola
Topic: WorldNetDaily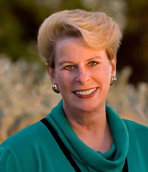 Elizabeth Lee Vliet's schtick these days is to fearmonger about Ebola, as befits a WorldNetDaily columnist and a doctor affiliated with the far-right-fringe Association of American Physicians and Surgeons. Just one problem, though: American public health officials aren't playing along with her fearmongering.
What's a fact-averse doctor to do? Find a country whose health warnings about Ebola are somewhat closer to her own. Thus, an Aug. 8 WND article by Leo Hohmann quotes Vliet bashing the U.S. Centers for Disease Control for not fearmongering and praising Canadian health officials for more closely aligning to her agenda:
[Vliet] also pointed to a 2012 Canadian study in which healthy and infected monkeys were housed side by side in cages but had no physical contact. The healthy monkeys contracted Ebola.

And, according to a Canadian public health advisory, airborne spread of the virus among humans is "strongly suspected, although it has not yet been conclusively demonstrated."

Generally, it takes far more than one to 10 organisms to transmit a virus.

"That's one reason the virus is so out of control, is it takes so few particles," Vliet said. "Dr. Hatfill, and the Canadian public health advisory, which is more detailed than the CDC, they talk about airborne transmission in much more specific terms than the CDC does."

Ebola virus also stays active longer in body fluids such as blood and semen than most other viruses.

According to the Public Health Agency of Canada fact sheet on Ebola, the virus remains communicable "as long as blood, secretions, organs, or semen contain the virus."

The Canadian alert also states that Ebola virus can remain active in a man's semen 61 days after the onset of illness, and transmission of the disease through semen has occurred up to seven weeks after a man has recovered from the illness.

"This is why I'm concerned, as a physician, that perhaps our hospitals are not as well prepared as we would like to think. Because if other doctors don't know this and if the CDC is not saying anything, if somebody recovers from Ebola and 60 days later the man ejaculates, he could infect his partner," Vliet said. "I just think it's huge. I think they are really underestimating the risk. I understand they are not wanting to create panic, but if doctors are not used to treating Ebola and they're not getting the same information from the CDC as the Canadian doctors are getting … I'm not trying to create a panic. I'm just saying let's get the information out."
Hohmann also quotes Dr. Jane Orient doing more fearmongering, but he fails to identify how both Vliet and Orient are associated with AAPS and its politics-driven medicine.
Posted by Terry K. at 12:07 AM EDT