WND's Ellis Washington Again Pretends He's Not Likening Obama to Hitler
Topic: WorldNetDaily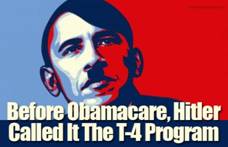 For a guy who insists he's not likening President Obama to Hitler, Ellis Washington sure spends a lot of time likening Obama to Hitler.
Washington does so again in his Oct. 4 WorldNetDaily column, while of course denying he's doing any such thing:
One aspect of Hitler's socialist universal health-care model was "racial hygiene," the removal of certain "undesirable" segments of society who are judged beneath the Aryan ideal, thus "life unworthy of existence," as Hitler would repeatedly say. Using his brutal panzer divisions, Hitler literally rolled out his universal health care throughout occupied France, Belgium and the Netherlands – those nations with mainly "Aryan" populations. Hitler used his military thugs of the Gestapo and SS Stormtroopers to implement universal health care in those very countries that he desired to Aryanize and perfect by sanitizing the populations through sterilization and medical murder of all persons unfortunate to have physical or mental defects.

Of course, I do not contend that Obama is Hitler, but if America foolishly adopt policies of national socialism, then we fail to learn from history the innumerable grotesqueries, inhumanity and genocide of previous nations who tried universal health care. To grant governments this god-like power over birth, life and death issues will be misused, not exactly as it was in Nazi Germany, nevertheless a tragedy for society.
Pro tip: If you've written a column titled "Hitlercare vs. Obamacare," if you've included the above Hitler-Obama image with your column, and if you've stated that "Obama is using his Gestapo and SS Stormtroppers or so-called "navigators" (e.g., the youth, the unions, Planned Parenthood, NAACP, ACORN, La Raza, etc.) to propagandize the poor, the miseducated and minorities who are being exploited to lead this final blitzkrieg toward forcing universal health care," you are, in fact, contending that Obama is Hitler.
Stop lying to us, Ellis. Especially stop telling us lies that are so transparently false.
Posted by Terry K. at 2:20 PM EDT