MRC Study Complains That GOP Is Accurately Blamed For Shutdown
Topic: Media Research Center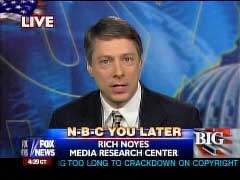 Rich Noyes complains in an Oct. 2 Media Research Center "study":
On Monday morning, Time/MSNBC political analyst Mark Halperin explained an obvious political reality to his fellow Morning Joe panelists: "The White House does not have much incentive" to negotiate on the government shutdown, because Democrats expect the liberal news media to hand them a public relations victory. As Halperin put it: "The press is largely sympathetic to their arguments that it's the House Republicans' fault."

In fact, as a new Media Research Center analysis of broadcast network evening news coverage shows, ABC, CBS and NBC spent the two weeks prior to the shutdown almost universally pinning the blame on congressional Republicans, especially conservative/Tea Party House Republicans. By the time the shutdown actually took place on October 1, news audiences had been repeatedly instructed to think about it as a GOP-generated crisis.
That couldn't possibly be because it IS a GOP-generated crisis, could it? That's a point Noyes has no intention of exploring, since his job is to defend Republicans.
Noyes goes on to whine:
If Democratic congressmen, or a Democratic Speaker of the House, pursuing a liberal policy objective, was subjected to similar ridicule or insults from a Republican President or a Republican Senate Majority Leader, you can bet that the networks would have made such language the centerpiece of their coverage.

Instead, the media have chosen to foist all of the blame on conservatives for sticking to their promise to oppose ObamaCare.
Given that conservatives have chosen to force a shutdown of much of the government in order to thwart a law that was duly passed by Congress, signed by the president and upheld by the Supreme Court, why shouldn't conservatives be blamed? Noyes never addresses that question.
And as Media Matters pointed out when MRC chief Brent Bozell rehashed the results of this "study" on his weekly Fox News appearance, Fox News -- which has worked long and hard to shift blame from Republicans toward Obama and the Democrats -- is curiously absent from the MRC's work.
Further, according to Media Matters, tbhe "study" confirms that network news is providing reality-based coverage of the shutdown, which persists because of a Republican refusal to extricate its opposition to the ACA from the nation's budget. Bozell fails to acknowledge this fact, and his complaints amount to little more than an argument in favor of journalistic "false equivalence."
Posted by Terry K. at 3:35 PM EDT