CNs' Jeffrey Hatefully Frames Military Benefits to Gays
Topic: CNSNews.com
CNSNews.com likes to run misleading, deceptive articles that further its anti-gay agenda, and it does so again with authorization from the top.
A Feb. 19 article by CNS editor in chief Terry Jeffrey makes this claim:
Outgoing Secretary of Defense Leon Panetta has unilaterally issued a directive stating that the U.S. military will now extend certain benefits to unmarried domestic partners that were formerly reserved for married couples—but will only do so if the domestic partners certify in writing to the Department of Defense that they are of the same sex.

Heterosexual unmarried partners do not qualify for the benefits—and thus are treated unequally by Panetta's directive on the basis of their sexual orientation.
Jeffrey conveniently fails to mention that same-sex partners are not permitted to marry in most states, thus being "treated unequally." If same-sex members of the military could legally marry nationwide, there would be no need for this policy.
But that's not all. Look at the picture CNS uses to promote the article on its front page, which also accompanies the article itself: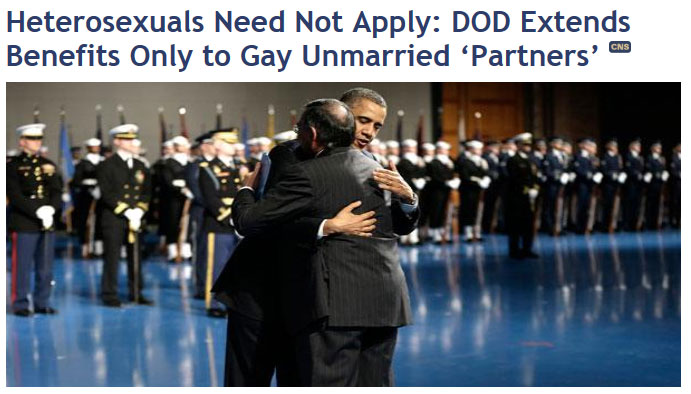 That's a picture of Panetta and President Obama hugging. Are Jeffrey and CNS trying to insinuate that Obama and Panetta are in a gay relationship?
The hate just oozes off the CNS website, doesn't it?
Posted by Terry K. at 10:25 PM EST