The Week in WND Race-Baiting
Topic: WorldNetDaily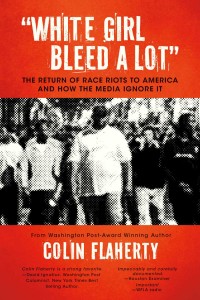 Let's check in on Colin Flaherty's latest adventures in race-baiting at WorldNetDaily, shall we?
Flaherty works up his best fearmongering over "black mobs" in Detroit in a Feb. 11 article: "Hundreds of black people rampaged through downtown Detroit Saturday night: Breaking things. Beating up people. Throwing chairs inside restaurants. Threatening. Fighting. Running. Much of it on video." He seems more appalled, however, that anyone would dare dispute that "being black had anything to do with the violence and lawlessness." After all, that would run counter to Flaherty's stock in trade.
In a Feb. 14 article, Flaherty obsesses again over the "Knockout Game," of which black people are a crucial ingredient:
The rules for the Knockout Game are simple: First, start with a crowd of black people. Then, find a white person. Beat him until he is unconscious. Or until your arms and legs get tired. Repeat as desired. Some people keep score. Others yell "Knockout Game" and laugh.
Biut as we've pointed out, the "Knockout Game" is not a black thing, it's an inner-city adolescent thing.
On Feb. 15, Flaherty proclaimed a Minneapolis high school food fight that escalated out of control to be an example of racially driven "black mob violence," even though the two main groups of students involved were both black. Or, as Flaherty put it more ominously: "All of violence was from groups of black people."
Flaherty then goes on to described allegations of "groups of blacks marauding through the downtown and other parts of Minneapolis; beating, hurting, destroying and stealing. Sometimes right in front of police."
Remember, Flaherty has a self-published book he needs to sell, so this sort of fearmongering must be reinforced.
Posted by Terry K. at 1:44 PM EST