WND Defends Bradlee Dean Again, While Dean Hurls Anti-Gay Slurs
Topic: WorldNetDaily
Gee, what a coincidence -- the same day we post an article about lying preacher Bradlee Dean and WorldNetDaily's efforts to protect and defend him, WND posts an article defending Dean's latest antics.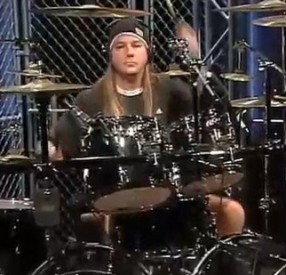 Dean's lead WND apologist, Bob Unruh, writes in a Feb. 14 article about how "Rock band leader, radio show host and international ministry organizer Bradlee Dean has been ejected from another school campus." As is typical Unruh style, he lavishes attention on Dean's side of the story -- which includes liberally quoting from a letter written to the school on Dean's behalf by right-wing legal group Liberty Counsel-- and only a single paragraph to the school's side.
According to Unruh, Liberty Counsel claimed that an otherwise unidentified "Mr. Berke" purportedly "even went so far as to yell to the assembled kids that 'none of what Bradlee Dean tells you is true; it's all misinformation.'" Then, later in the article, Unruh uncritically repeats one of Dean's lies, that "the average age of death of a homosexual male is 42 years." That number relies on distorted and seriously outdated information by anti-gay "researcher" Paul Cameron.
If that wasn't enough, Dean devotes his latest WND column to the incident. He repeatedly smears one of the school personnel who blocked his little indoctrination session as "effeminate":
We no sooner stepped foot on campus, but the principal and an effeminate teacher approached us and attempted to cancel the event on their campus with no justifiable explanation.

[...]

Before we left, however, the effeminate teacher who had a part to play in the attempt to cancel the student-led presentation exercised his First Amendment right to tell the students, "I warn you, children, that everything this gentleman is going to tell you is complete misinformation."
[...]

What didn't this effeminate teacher want the students to hear?

[...]

Or was it that this effeminate teacher didn't want the students to know about Larry Brinken, a homosexual icon who was recently arrested for possession of horrific child pornography?

[...]

What was this effeminate man afraid of? He almost had me convinced that I was the one doing something wrong.
Remember, Dean is the guy who doesn't want people to think he wants gays to die so badly that he's suing Rachel Maddow over it (and hired failed lawyer Larry Klayman to prosecute it). Denigrating someone because he perceives that person to be gay -- Dean offers no evidence to support his suggestion -- demonstrated the hatred in Dean's heart and does not help his case against Maddow.
Dean also complains that those who stopped his presentation "read about me on Wikipedia or independent blog sites that have no credibility whatsoever and decided he was going to attempt to cancel the presentation based on disinformation." This links back to Dean's website, in which he criticizes only Wikipedia by name, does not specifically respond to any purpoted "disinformation," and touts a fawning WND profile of him by anti-Kinsey obsessive Judith Reisman, who has her own history of peddling disinformation.The website also essentially declared that the only accurate source about Dean is Dean himself: "For more information about our organization, please contact us directly."
If Dean wishes to dispute any of the information in the ConWebWatch article, he may contact us directly.
Dean concludes, "America should pay careful attention to who is doing the discriminating and who is abiding by the laws of our republic." Of course, his repeated denigration of someone who disagrees with him as "effeminate" is nothing if not discrimination.
We should also be careful of who denigrates his critics and insists that he alone is the only source of the truth.
To invoke the name of Dean's ministry: He can run, but he cannot hide.
P.S. It appears that comments have been disabled on Dean's column. Guess he really does want to run.
Posted by Terry K. at 12:57 AM EST
Updated: Friday, February 15, 2013 1:00 AM EST