CNS Mendaciously Attacks Honolulu Rail Transit Project
Topic: CNSNews.com
Just how mendacious are Terry Jeffrey and his band of merry reporters at CNSNews.com?
A Feb. 13 CNS article by Patrick Burke carries the mendacious headline "Administration Will Spend $1.8B to Build 20-Mile Railroad on 30-Mile-Wide Island."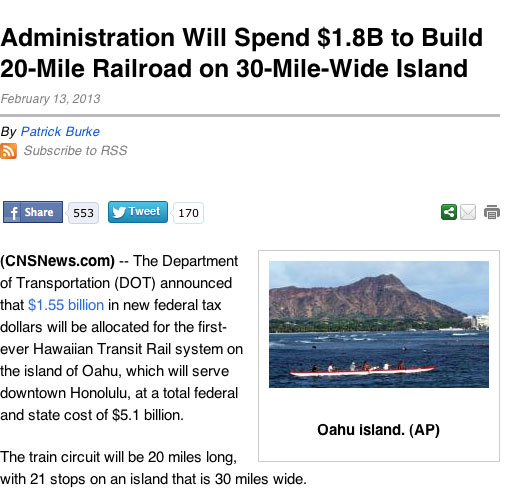 In fact, what's not being built is a "railroad" but a
light-rail public transit system
on the Hawaiian island of Oahu, running from Honolulu to Kapolei via the Honolulu airport.
At no point does Burke explicitly state that this is a light-rail public transit system or that it's for the exclusive use of people. He does, however, baselessly insinuate that this is some kind of political-crony deal by President Obama by noting that one end of the line stops "approximately 1-3 miles from the University of Hawaii and Punahou School, the high school once attended by President Obama."
In fact, the transit line has been in the planning stages for more than 40 years, and approved by Oahu voters in 2008.
That's how medacious CNS is. And the Media Research Center dares to attack others for alleged bias?
Posted by Terry K. at 9:55 PM EST