CNS Pushes Dubious Election Irregularities To Boost Trump Agenda
Topic: CNSNews.com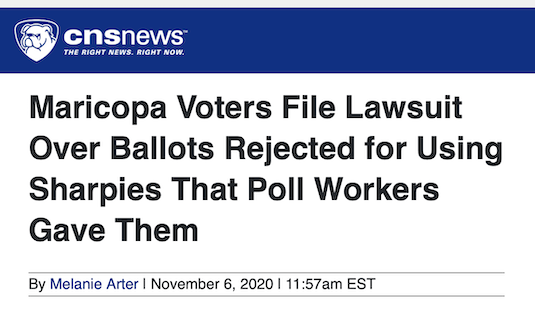 We noted how CNSNews.com's Craig Bannister referenced a discredited case in which it was alleged that ballots in Maricopa County, Ariz. (which Bannister wrongly claimed was in Florida) were rejected because votes were marked with a Sharpie pen. But CNS also devoted a full article to this nonsense.
Pro-Trump stenographer Melanie Arter devoted a Nov. 6 article to rehashing right-wing claims in the case:
A lawsuit in Arizona claims 80 percent of voters at a polling location in Maricopa County, Ariz., had their ballots rejected because of a Sharpie issue.

[...]

Election law attorney Christian Adams, who serves as president of the Public Interest Legal Foundation and once served as general counsel and former DOJ voting section attorney under Presidents George W. Bush and Barack Obama, is representing the plaintiffs in the case.

"This is a case to get somebody's right to vote vindicated. Mrs. Aguilera attempted to vote, and she watched this happen. She watched her ballot rejected because of the Sharpie. I know a lot of people want to try to debunk the Sharpie issue. These are sworn affidavits. People say there's no evidence of this, Maria. These are affidavits of an election official," Adams told Fox Business's "Mornings with Maria Bartiromo" on Friday.
Arter was so busy transcribing the Fox Business segment that she censored the fact there's another side to this story. As an actual news outlet reported:
Rumors began to spread on social media Wednesday that voters in the battleground state of Arizona who used Sharpie pens on their ballots wouldn't have their votes counted. That confusion prompted state officials, election monitors and a top Trump administration official to push back on "#SharpieGate" rumors.

"Don't promote disinfo! Stop spreading #SharpieGate claims," tweeted Department of Homeland Security Cybersecurity and Infrastructure Security Agency Director Christopher Krebs on Thursday morning, reminding people that election jurisdictions allow voters to mark ballots with a variety of writing instruments, including Sharpies.

Maricopa County officials said poll workers were trained to require voters to use Sharpies at voting sites because the ink doesn't smudge as ballots are counted. An informational video was posted in a Maricopa County Elections Department tweet that said, "New offset columns on the ballots means bleed through won't impact your vote!"
So, yes, Sharpies are actually encouraged for voting in Arizaona. But Arter isn't going to tell you this -- despite the fact that this debunking was published the day before her own article was published -- because she has a pro-Trump narrative to push. And neither Arter nor anyone else at CNS has bothered to update the story.
That's not the only election-related issue Arter misled about to Trump's benefit. A Nov. 5 article featured how "Election officials are forcing poll watchers to stand 30 feet away to observe ballot counting in Philadelphia, citing concerns about the coronavirus, Corey Lewandowski, senior advisor to the Trump campaign, told Fox Business on Wednesday." Arter was too busy quoting Lewandowski to make it clear that Democratic poll watchers were no closer.
Posted by Terry K. at 1:16 AM EST