WND Magazine Rages Against 'Wokeism' (Whatever That Is)
Topic: WorldNetDaily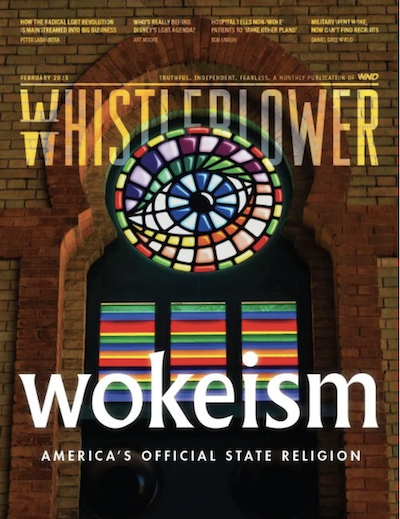 February's issue of WorldNetDaily's sparsely read Whistleblower magazine is dedicated to attacking "wokeism" and portraying it as a purported "state religion" that is somehow taking over America. The essay by managing editor David Kupelian labors to define the amorphous word in his usual fearmongering manner by portraying fairness and diversity as un-Christian and un-American:
Although one would never guess it based on the increasingly vicious and open attacks on Christians by this nation's ruling elites, America was for many generations the most Christian nation on earth – the true secret of its greatness.

In fact, Christianity has unquestionably been the most powerful, consequential and benevolent force in all of world history. Nothing else even comes close.

Yet today, in the United States of America, a new religion has somehow become the country's de facto official church.

Mind you, this new faith is not like a religion; it's not cult-like. It's a complete and total life religion, influencing every aspect of the true believer's existence. And right now, it is being forcibly imposed on the entire American populace by virtually every major societal institution, from government, media and big tech; to academia (preschool through grad school); to entertainment and sports; and perhaps most surprisingly of all, by most of this nation's biggest and wealthiest businesses.

This new state religion overtaking the United States of America – and increasingly, much of the Western (and formerly Christian) world – is Wokeism.

To most outsiders, the expression "being woke," or "going woke," conjures up notions of a person or entity claiming to be acutely sensitive ("awake") to "systemic social and political injustice" in every form. The "injustice" being condemned by Wokeism is not simply alleged widespread bigotry against black people, but also – as noted in Joe Biden's Jan. 20, 2021 White House Executive Order – "Latino and Indigenous and Native American persons, Asian Americans and Pacific Islanders and other persons of color; members of religious minorities; lesbian, gay, bisexual, transgender, and queer (LGBTQ+) persons; persons with disabilities; persons who live in rural areas; and persons otherwise adversely affected by persistent poverty or inequality." Of course, the "persons who live in rural areas" bit was thrown in as a cynical pretense of caring about blue-collar, working-class, mostly Trump-supporting Americans, when the elites couldn't care less about them, as their deplorable non-response to the toxic disaster in rural East Palestine, Ohio, demonstrates.) On the other hand, rest assured that the expansive "LGBTQ+" population includes every child-grooming "trans" school teacher, purple-haired, heavily pierced, "nonbinary" TikTok recruiter and mentally ill cross-dresser seducing your toddler in "drag queen story hour" events.

Bear in mind that all of these people, deemed victims of societal bigotry, are therefore regarded as intrinsically more virtuous and moral than the shameful oppressor class – primarily heterosexual white Christian males.
As a white heterosexual Christian male, Kupelian is understandably shook by the idea that he and his forebears will be held accountable for their behavior. Kupelian's manufactured horror stories continued:
Most ubiquitously of all, there is the rampant racial discrimination in employment, college admissions and every other area of life, as seen in today's mass corporate embrace of DEI, or "Diversity, Equity and Inclusion," which, stripped of its sanctimony and guilt, amounts to hiring people based on their skin color rather than their qualifications. Not only is such racial discrimination both immoral and flagrantly illegal – remember the 1964 Civil Rights Act? – but it's also killing people. That's what happens when, for example, you hire airline pilots and surgeons based on their skin color, rather than their abilities. And it's happening everywhere.
Kupelian offered no evidence that diverfsification inherently means loss of quality -- indeed, he seems more than a bit racist in suggesting that minorities cannot possibly be as good as white people in the airline or medical professions.
After explaining how great Christianity is, Kupelian tried to portray"wokeism" as a religion, despite nobody actually doing so:
However, believe it or not, in the bizarre and deranged world of Wokeism, America's new official national religion promises much the same thing as Christianity.

Wokeism promises to make sinful human beings (especially heterosexual white men) justified and free, not only from their own sins, but from the curse of the sins of their forefathers, a sinfulness that clings to white Americans like the stain of Adam and Eve's Original Sin, no matter how many generations pass since the end of slavery and Jim Crow. It's systemic, you see; we're born with it.

This leads us to Wokeism's formula for "salvation" and "forgiveness of sins," whereby the guilt, the burden, the stain of all of our sins and those of our ancestors are lifted and washed clean, replaced by freedom, innocence and righteousness.
He then ranted that people pushing "wokeism" just want money and power:
How extraordinary that the Creator of the Universe demonstrated the greatest love imaginable, sending His own Son to suffer and die to save a broken and sinful human race – or as Paul expressed it, "God made Him who had no sin to be sin for us so that in Him we might become the righteousness of God" (2 Corinthians 5:21). And yet, multitudes today are turning away from that shining path to true freedom, only to jump into the astonishingly destructive, unjust and – in some ways, worst of all – unbelievably stupid religion of Wokeism.

Surprise. It's all an act.

Oh, one more thing: Our dive into the official state religion of Wokeism wouldn't be complete without pointing out that, though there are multitudes of true believers, and though tens of millions of lives are currently being disrupted, sabotaged and in many cases destroyed by Wokeism, in truth America's top-tier political leaders – and I'm talking now about those wielding the real power over Americans – don't believe in any of this. It's all just a big act for them.

They pretend to care about inner-city black families, equal rights for Pacific Islanders, and "trans" men who brag about having periods and getting pregnant, but they do not care. Not a bit. They just play-act, while exploiting the ever-expanding wokeness craze for their personal benefit, so they can build and consolidate their own power, wealth, privilege and glory.

[...]

So, even though the crazy Marxist college professors and their sadly indoctrinated students might believe in the religion of Wokeism, the powerful politicians, the elite class, the deep-staters, the super-rich CEOs and the globalist schemers do not. They just pretend, and play along, because it confers a veneer of morality and righteousness onto very immoral, unrighteous and utterly self-serving sociopaths. It disguises their real agendas. And it serves to keep "the rabble" off balance, confused, divided, fearful, intimidated, reacting to one another, afraid of being "cancelled" and losing their friends, livelihood, everything – the perfect cover for the left's "long march."

Most of all, it is a potent tool for amassing ever more POWER and GLORY to themselves – which, of course, is their real religion.
As if Kupelian isn't also after money and power by attacking "wokeism" to keep WND's dwindling reader base fearful and subscribing -- and, thus, keep him gainfully employed.
Posted by Terry K. at 2:15 PM EDT
Updated: Wednesday, March 29, 2023 2:18 PM EDT