MRC Touts, Defends Tony Dungy's Right-Wing Christian Leanings
Topic: Media Research Center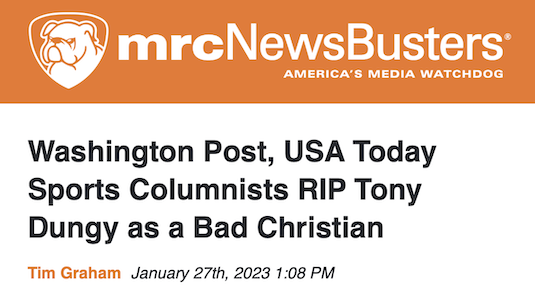 Like its co-workers down the hall at CNSNews.com, the Media Research Center loves former NFL coach Tony Dungy and, more specifically, his right-wing leanings. In April 2022, John Simmons defended Dungy after he was criticized for appearing with Republican Florida Gov. Ron DeSantis as he signed a bill claiming to boost fatherhood initiatives, calling it "just another installment of unhinged individuals with nothing better to do with their time than tear someone else down." (Um, isn't that pretty much an accurate description of the MRC as a whole?) Simmons followed up two days later with another post praising Dungy: "Instead of caving to the mob and rescinding his support to get back in their good graces, Dungy doubled down on his stance." More defenses and promotion came after that:
When Dungy was called out for hanging out with an anti-LGBT preacher, Jay Maxson used a Jan. 12 post to defend Dungy ... and homophobia:
Openly Christian NFL broadcaster Tony Dungy, a former NFL player and coach with a Super Bowl championship on his resume, is being targeted for his faith by the alphabet mob. Outsports is doing a two-part series examining his "anti-LGBT past", starting with a smackdown over his upcoming appearance at a Christian conference in March.

Dungy and CBS football host James Brown are both speaking at the Charis Bible College's Men's Advance 2023, March 9-11. They've been featured for years at the event hosted by "rabidly anti-gay Christian evangelist Andrew Wommack," who has equated being gay to murder, according to Outsports co-founder and Christian shamer Cyd Zeigler.

[...]

Wommack's anti-LGBT rhetoric uses "cruel language,'' Zeigler charged. Two years ago, he claimed homosexual behavior is hazardous to people's lives. Which, according to much social science research, is absolutely true.

"If you are a Christian, if you claim to be a Christian, and you promote homosexuality as an accepted lifestyle ... if you believe that, you are taking a stand completely against the word of God," Wommack has stated in the past.

It's going to be a bitter pill to swallow for LGBT people "to learn these two men openly embrace someone who has made such cruel public comments about the LGBT community," Zeigler said, adding that 96 percent of Outsports Twitter comments expressed "discomfort with listening to someone who has embraced an anti-gay preacher discuss the NFL on television."

Wow, only 4 percent of Outsports followers reject Zeigler's Kool-Aid. With its in-your-face alphabet agenda, Outsports hardly qualifies as a credible source on public opinion.

[...]

It's horrible that these two heretics to LGBTQABCD orthodoxy are going to be front-and-center during the NFL Playoffs the next three weekends, Zeigler moans. Mainstream America does confirm them and their religious freedom.
A Jan. 21 column by Jeffrey Lord similarly ran to Dungy's defense after it was questioned whether his right-wing sympathies made him suitable for being a featured NFL commentator:
Well. Message received. If you are a black man, you are expected to be Left. But Dungy has had the temerity to walk off the liberal plantation and think for himself - and he should be fired post-haste.

Where have we heard this bigoted line of thought before? Oh yes. Recall this 2020 headline at CNN: Biden: 'If you have a problem figuring out whether you're for me or Trump, then you ain't black'

Which is to say, if you're black and don't think the way white liberals demand, then "you ain't black."

In the case of Tony Dungy, this kind of woke bigotry is being used to demand that he be fired.
Maxson returned to whine in a Jan. 25 post that Outsports continued to criticize Dungy:
The ravenous LGBTQABCD mouthpiece Outsports says that, after posting six anti-Tony Dungy rants this month alone, there is "no agenda" against the Christian NFL football commentator. Talk about blathering out of both sides of your mouth!

[...]

The "gay agenda" has not returned; it never left. LGBTQABCD fascists have completely captured pro sports and the left-stream media, who bow to them. They're angry over the last few non-compliant sports commentators.

[...]

Dungy's defenders are bludgeoning the alphabet mob with debate by taking a "rhetorical steel chair to the head," Schultz roared. Despite Outsports' outburst of anti-Dungy attacks, he defends it by contending Christians have the freedom to express their beliefs. It just doesn't shield them from criticism … or month-long attacks.

Thus, "Destroy Dungy Month" aims to cancel him for expressing his Christian beliefs. Schultz still insists that the mob is not engaging in an anti-God agenda, and his post should strike everyone as being eminently reasonable.

This is clearly the eminent reason of an alternate universe where God-fearing people are despised.
After Dungy got busted for spreading a false story about classrooms installing litter boxes for children who identify as cats, it was Tim Graham's turn to play defense in a Jan. 27 post:
Sports-section columnists can be the most aggressive liberal jerks in the opinion business. In Tuesday's Washington Post, columnist (and University of Maryland journalism professor) Kevin Blackistone aggressively played guilt by association when Hall of Fame NFL coach and NBC football analyst Tony Dungy attended the March for Life last week.

The headline was "Dungy shows the regressive and intolerant worst in sports." Inside the paper, a similar headline: "Dungy has offered his voice to the cause of intolerance." Obviously, Blackistone doesn't believe "black lives matter" when it comes to abortions.

Blackistone tried to tie Dungy to anyone who ever spoke at a March for Life, starting with Sen. Jesse Helms (in the Reagan years), Operation Rescue founder Randall Terry, and Donald Trump. Now imagine how he'd freak out if we started talking about that photograph where Barack Obama is beaming next to Rev. Louis Farrakhan.

He vaguely mentioned a tweet that Dungy deleted about the rumor/joke that high schools are putting litter boxes in the bathrooms for students who identify as cats. Dungy apologized: "I saw a tweet [Tuesday] and I responded to it in the wrong way. As a Christian I should speak in love and in ways that are caring and helpful. I failed to do that and I am deeply sorry."

[...]

He concluded by noting Dungy is speaking at an anti-gay minister's conference, warning: "Dungy should know going through with that appearance could be hazardous to his career."

Before the March for Life, USA Today sports columnist Nancy Armour also trashed Dungy for his kitty-litter tweet, although she at least explained what it was. the headline was "Tony Dungy shows his true values with hateful tweet that puts transgender kids at risk."

[...]

Armour somehow thinks you can only measure God's word from the words Jesus actually said in the New Testament, and you can ignore everything else the Bible says about God making humans male and female -- "assigning them at birth." That God is apparently a bigot.
Graham provided no evidence that the kitty litter story was a "rumor/joke," and Dungy made no claim to that effect in his apology.
Maxson served up a Feb. 12 post praising Dungy yet again, this time for encouraging prayer:
Years ago, when Tony Dungy was head coach of the Tampa Bay Bucs, the NFL issued all teams a "no prayers on the field" edict. The whole world saw that directive get blown off when Damar Hamlin's heart stopped beating in Cincinnati this past season. Dungy and other football greats kept the faith talk rolling in their appearances before 2,000 people attending Saturday's Athletes In Action Super Bowl Breakfast in Phoenix.

[...]

"It's okay to pray, and God answers prayer," Dungy said Saturday. God is going to use Damar, and He showed us God is real. Bills' quarterback and Hamlin teammate Josh Allen said he wasn't too spiritual, but he saw what was happening, confessed that God is real and is using Damar for His glory.
Maxson concluded: "It's refreshing to know that, during this era of woke sports franchises and athletes, there are still stand-up, inspirational athletes with deep faith who are setting good examples by standing on God's Word." Maxson didn't explain what "woke" means.
Posted by Terry K. at 7:08 PM EDT