CNS Joins MRC Parent In Cheering DeSantis Migrant Stunt
Topic: CNSNews.com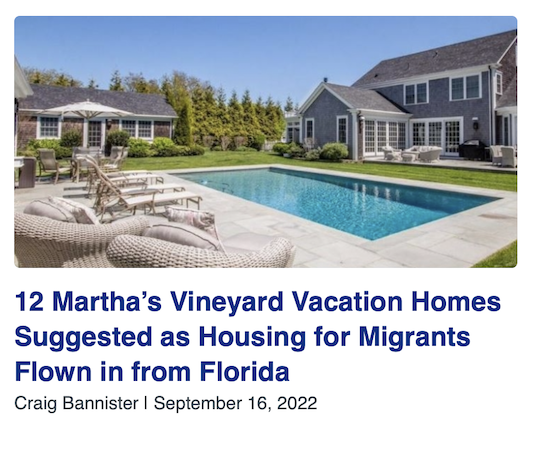 Like its Media Research Center parent, CNSNews.com loved Florida Gov. Ron DeSantis' own-the-libs stunt of flying migrants to Martha's Vineyard.
Melanie Arter kicked off CNS' coverage with a surprisingly balanced article that also noted DeSantis' Democratic opponent, Charlie Crist, accurately calling it "just another political stunt that hurts our state." Arter also wrote an article noting that Prseident Biden "accused Republicans of using migrants as 'props'" after this and other similar incidents.
Then it was bias time. Highly biased reporter Susan Jones, writing about the same Biden speech that Arter covered, huffed: "On Thursday night, President Joe Biden indignantly slammed Republicans for interfering with the administration's efforts to make sure the border 'process' is 'safe and orderly and humane,'" and gave space to a Republican senator, Tom Cotton, attacking him. Arter also devoted an article to Cotton's attacks.
Then it was time for some snarkiness from the highly partisan Craig Bannister, who wrote:
When about fifty illegal aliens were flown into Martha's Vineyard from Florida this week, claims of a erupted in the largely-liberal vacation spot for the wealthy, prompting the suggestion that some of the empty rooms at the island's guest lodges be put to use.

Democrats have condemned governors, like Florida's Republican Governor Ron DeSantis, for not welcoming illegal aliens into their states, so DeSantis relocated fifty migrants to Martha's Vineyard, to give the liberal bastion a small taste of the severity of the problems faced by his state.

[...]

So, why doesn't affluent Martha's Vineyard follow their lead when it comes to migrants, a piece in The Federalist Friday suggested, providing a list of 12 luxury rental establishments that, together, could house more than twice the population of the fifty migrants from Florida.
Bannister followed that with a complaint that The migrants flown into Martha's Vineyard Wednesday by Republican Florida Governor Ron DeSantis on Wednesday were relocated to a military base in Cape Cod Friday, ending the affluent vacation spot's two-day 'humanitarian crisis.'" Bannister also fawningly transcribed a rant by CNS' favorite right-wing radio host, Mark Levin:
Biden, his party, and the corrupt media are sickening," conservative commentator Mark Levin said Friday, upon learning that Martha's Vineyard's limousine liberals had already shipped off the fifty illegal immigrants flown in on Wednesday by Republican Florida Governor Ron DeSantis.

DeSantis flew the fifty illegal immigrants to the iconic vacation spot to give the wealthy, largely-liberal community a tiny taste of what his state is suffering as a result of the Biden Administration's open-borders policy.

[...]

"Turns out Martha's Vineyard is the trigger for the Democrats when it comes to Illegal aliens! 50 aliens! Home of the Obamas, Kennedys, and so many other leftwing Democrat millionaire hypocrites," Levin wrote in a Twitter thread, warning that the liberal elites couldn't care less about the harm inflicted on average Americans by unbridled illegal immigration:
Arter returned to complain that "White House Press Secretary Karine Jean-Pierre accused Republicans of sowing chaos and division by sending migrants to Democratic-led cities, even comparing them to human smugglers."
As reports surfaced that the migrants DeSantis shipped to Martha's Vineyard were deceived by their handlers, who claimed jobs and housing would be waiting for them, Jones tried to do damage control by citing a completely different effort by the city of El Paso, Texas, which has a policy of busing migrants elsewhere. She quote the El Paso mayor (who she made sure to point out was a Democrat) saying that "we don't send anyone where they don't want to go" and "we always continue to treat people like human beings."
Jones followed that with a Sept. 20 article that uncritically quoted DeSantis spinning away allegations of deception and cheering his own-the-libs stunt:
The 50 Venezuelans shipped to Martha's Vineyard "all signed consent forms" before departing Florida, Gov. Ron DeSantis told Fox News's Sean Hannity Monday night.

DeSantis said the illegal border-crossers, most of them adults, were also provided with maps and phone numbers for various social and immigration services available on Martha's Vineyard and in the rest of Massachusetts.

[...]

DeSantis noted that Democrats have accused the governors of Arizona, Texas and Florida of "political stunts," but he said the biggest stunt was Joe Biden reversing President Trump's immigration policies, Biden knowing full well what would happen.

DeSantis said immigration is now a "front-burner issue," and one where Republicans have the advantage. "So run on it, and then if we do get majorities in the Congress, do something with that power," he said.
Jones did not allow anyone to respond to DeSantis' spin. Meanwihle, Bannister returned with another bit of stenography for Levin, touting his promotion of" the parody song, 'The Martha's Vineyard Invasion,' which mocks how the liberal community quickly ousted the fifty illegal aliens sent to the supposed sanctuary by Republican Florida Governor Ron DeSantis."
Posted by Terry K. at 11:50 AM EDT
Updated: Sunday, October 23, 2022 11:56 AM EDT