MRC Mad That DeSantis Immigration Stunt Likened To 'Reverse Freedom Rides' -- But Censors That The Comparison Is Apt
Topic: Media Research Center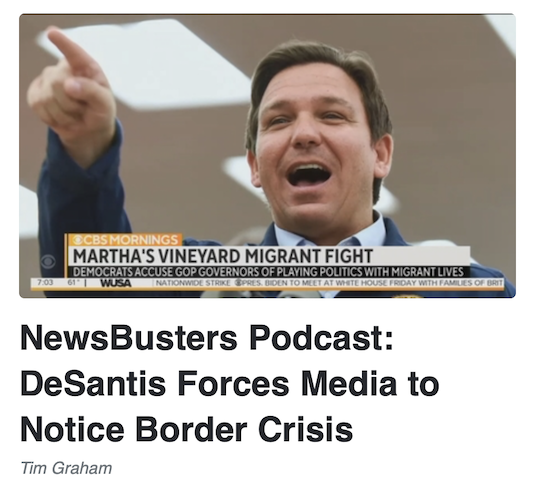 The Media Research Center just loves Florida Gov. Ron DeSantis'own-the-libs mentality in treating migrants like political pawns by shipping them to Martha's Vineyard -- but it's quite sensitive about criticism. And when critics pointed out that his stunt smacks of the "reverse freedom rides" in the 1960s -- in which Southern segregationists sent black families to live in northern states by falsely promising them free housing and good jobs -- the MRC got a bit upset.
Graham spent part of his Sept. 16 podcast -- which, as we've noted, otherwise praised DeSantis' stunt largely because "it's audacious in getting right in the liberal media's face" -- complaining that the JFK Library sent a tweet reminding people of the reverse freedom rides. First, he sneered that "I like to call it the John Adulterous Kennedy Library, because you always gotta take the Kennedys down a bit," then whined that the library is "taxpayer-funded lberal trolling because the Kennedy Library and Museum receives an annual federal appropriation for building maitenance and pays a portion of their personnel costs." Grahamfinally got around to grousing about the tweet:
So they're comparing Ron DeSantis sending Venezuelans to Martha's Vineyard to basically the Klansmen sending Negroes, ad they called them in the headline in this thing, with one-way-tickes to northern cities. Liberals are so gross. They think they're so smart, and ths isn't smart at all.
Alex Christy whined about the comparison in a Sept. 17 post:
Friday's CNN Tonight came up with several comparisons for Governors Greg Abbott and Ron DeSantis sending 50 migrants to Martha's Vineyard and none of them were good. Host Laura Coates compared the governors to segregationists while theGrio White House correspondent April Ryan cited the debunked scandal where border patrol agents were said to have whipped migrants with horse reins.

Coates kicked off the segment by trying to give viewers a history lesson, "they echo something that happened some 60 years of our past. Back to something called the 'Reverse Freedom Rides.' And maybe you've never heard of what this is. You certainly heard of Freedom Riders, right? But the Freedom Rides in the Reverse, were Black families who were tricked by white supremacists. They were lured by the promise of a job or a better home and they were bused to Hyannis, Massachusetts, right near John F. Kennedy's holiday home."

[...]

Those victims would be Americans who were uprooted from their homes under false pretenses. These migrants are from outside the U.S. and even if they are granted asylum, they likely would not all have settled down in Texas.

However, not only did Coates compare Abbott and DeSantis to segregationists, she argued they could be considered even worse, "Now, the numbers, racked up by Governors Abbott and DeSantis put the segregationists of that dark period, well, frankly, to shame in the numbers alone. Now, the Reverse Freedom Riders, they tricked about 200 people into getting onto a bus. 199 or maybe even 200, far too many. While today's Republicans have moved more than 9,000 people, and are promising more."
But it turns out those migrants were, in fact, being deceived as well. Christy failed to mention that the migrants were given a brochure that promised they would be eligible for "8 months cash assistance," "assistance with housing," "food," "clothing," "transportation to job interviews," "job training," "job placement," "registering children for school," "assistance applying for Social Security cards," among other benefits, when the arrived in Massachusetts -- which isn't true.
The MRC seems to be conceding this point. Aside from an Oct. 1 post by Geoffrey Dickens that repeated Christy's attack -- without admitting just how apt the comparison is -- it hasn't complained about the comparison again.
Christy also referenced "the debunked scandal where border patrol agents were said to have whipped migrants with horse reins" -- in fact, the only debunked scandal we found is the MRC falsely asserting that media outlets accused those agents of using whips.
Posted by Terry K. at 9:20 PM EDT