CNS Unironically Accuses Biden Of Cherry-Picking Economic Numbers
Topic: CNSNews.com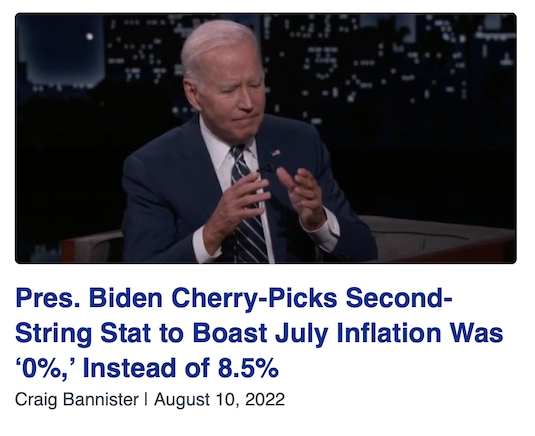 We've long documented how CNSNews.com cherry-picks economic numbers -- particularly regarding employment, where it emphasizeas arcane numbers like the labor force participation rate in order to downplay drops in the overall employment rate -- to make Democratic presidents look bad. So it was more than a bit amusing to to see CNS uniroinbically accusing President Biden of cherry=picking numbers on the economy, as Craig Bannister did in an Aug. 10 article:
"Our economy had zero percent inflation in the month of July. Zero percent," President Joe Biden boasted Wednesday, citing a lesser-used Bureau of Labor Statistics (BLS) measure, rather than the more commonly used statistic, which shows inflation actually jumped 8.5%.

Pres. Biden led off a press event with the claim:

"Before I begin today, I want to say a word about the news that came out relative to the economy. Actually, I just want to say a number: zero. Today, we received news our economy had zero percent inflation in the month of July. Zero percent.

"Here's what that means: while the price of some things went up last month, the price of other things went down by the same amount. The result: zero inflation last month. But, people are still hurting. But, zero inflation last month."

And, yes, if you're comparing the seasonally-adjusted change from June 2022 to July 2022 for "urban consumers," that's true, as the BLS report released Wednesday notes:

(CPI-U) was unchanged in July on a seasonally adjusted basis."

However, the more broadly analyzed and reported inflation statistic is the year-to-year (July 2022 vs. July 2021) increase in inflation for "all items" – which rose 8.5% - as in the next sentence of its release:
Bannister then gushed that "Social media was quick call out Biden and post video of his disingenuous boast," though he cited only a single right-wing Republican senator doing so. He then went into the weeds by claiming that "Biden also appeared to conflate his 'zero percent inflation' statistic with the 'core inflation' number - which excludes price increases for food and energy products." Of course, doing so lets Bannister ignore that gas prices have been dropping throughout the summer, which CNS as a whole is trying to ignore.
Posted by Terry K. at 5:14 PM EDT