Newsmax's Hirsen Fluffs Ex-'Superman' Actor, Censors How Ignorant His Captain America Criticism Was
Topic: Newsmax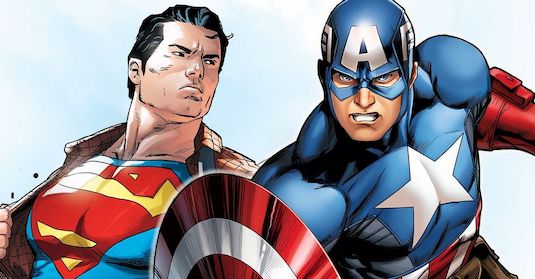 James Hirsen began his July 12 Newsmax column by sucking up to Dean Cain:
Dean Cain gained a whole lot of fame when he starred in the hit 1990s television series "Lois & Clark: The New Adventures of Superman."

Cain played the dual role of the understated Clark Kent and his alter-ego Superman, with actress Teri Hatcher co-starring as Lois Lane.

At the height of its popularity, "Lois and Clark" brought in roughly 15 million viewers per show. Its influence spawned a series of novels, trading cards, and a comic book, which all worked to solidify Cain's brand as a major player in the "Superman" legacy.

Not only does Cain have the looks to take on the Man of Steel role, he's got the athletic cred under his belt to make the media magic believable.
All this sucking up, though, was an attempt to build credibility for the actor to justify his right-wing attacks on the new Captain America comic series. Hirsen obliquely introduced this section by stating that "Cain recently became the subject of a Twitter trend, due to some statements that he made about a new Captain America comic book series." Hirsen didn't note, of course, that the reason Cain became a Twitter trend was beause he never read the comic he was criticizing -- and, thus, probably didn't understand much about Superman, the character he played on TV for a few years, around which Hirsen was trying to build his critical cred. It appears Hirsen has not only not read the comic as well -- he only quotes the one line that his drawn right-wing ire but omitting the entirety of what Captain America actually said on the subject -- his own research into Cain was factually deficient, crediting a Hollywood Reporter story on Cain's remarks when, in fact, the Reporter was detailing was said on Fox News:
The new sub-patriotic comic book character states that the American Dream is really "…two dreams. And one lie," adding that for some, it "isn't real."

Cain has a sense that the change of direction for the title character is anti-American in nature and appears to be shoehorned into the content of the comic book.

Quoted in the Hollywood Reporter Cain says, "I love the concept of Captain America, but I am so tired of this wokeness and anti-Americanism."

"In my opinion, America is the greatest country in history. It's not perfect. We are constantly striving for a more perfect union, but I believe she's the most fair, equitable country anyone's ever seen, and that's why people are clamoring to get here from all over the globe," he adds.

Cain wonders aloud about whether today's U.S. critics realize what life is like in other countries around the world.

"Do these people ever travel outside of America?" he asks. "Do they go to other countries where they have to deal with governments who aren't anywhere near as fair as the United States? I don't think they do. I do it all the time, and I kiss the soil when I get back."
But as the Twitter folks who demolished Cain's remarks pointed out, superheroes tend to be woke creatures, with Superman in canon helping the disadvantaged and repeatedly taking down the empires of evil capitalist Lex Luthor. Also, Captain America fought Nazis.
It managed to be even more stupid than the Media Research Center's meltdown over Captain America. Maybethat's why Hirsen concluded his column with more Cain-fluffing, laughably insisting that "he has generally been private about his religious convictions" despite most of his recent film projects he listed being made with an explicit right-ring and/or religious.
Posted by Terry K. at 6:46 PM EDT
Updated: Tuesday, August 17, 2021 6:48 PM EDT