CNS Mindlessly Attacks School Board For Letting Parents Know About Child Tax Credit
Topic: CNSNews.com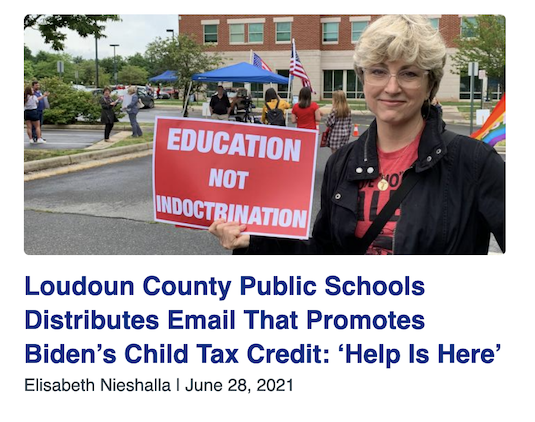 We documented how CNSNews.com intern Elizabeth Nieshalla followed marching orders and churned out an article pushing right-wing narratives against a Virginia school board discussing "pro-transgender" policies for its students (without any mention of the fact that CNS' parent, the Media Research Center, helped incite the volatile atmosphere at one board meeting). A few days later, Nieshalla attacked the school board again for no real reason at all:
Two days after their controversial June 22 school board meeting, Loudoun County Public Schools (LCPS) sent out an email to families detailing and promoting President Joe Biden's Child Tax Credit under the American Rescue Plan, which was signed into law in March of this year.

The LCPS School Board has been under harsh criticism by many parents who are concerned about the implementation of many of the board members' progressive ideologies, such as a transgender policy that requires the illogical use of pronouns in reference to a person's selected gender, as well as concerns about the anti-American Critical Race Theory and its variants.
Neishalla didn't explain why the school board informing parents about a new child tax credit is so offensive. Nor did she explain what the child tax credit has to do with the other initiatives that right-wingers have targed the school board for.
(She also didn't explain how critical race theory is "anti-American" either or why referring to a student by their preferred pronoun is "illogical," but then, she's just regurgitating right-wing talking points.)
Informing parents of a benefit they may be able to take advantage of is a responsible act by a school district, not a partisan act. The use ot a photo of a woman holding up a sign declaring "Education Not Indoctrination" is quite illogical in this instance, because the child tax credit is not tied to anything the school district does, and information is not indoctrination.(Not hating transgender people and informing students of racism in American history isn't either, but again, Nieshalla is all about right-wing narratives, not facts.)
Articles like this may help get Nieshalla find a job at a right-wing website, but legitimate news outlets would likely stay far away from someone who puts such blatant partisan propaganda before facts.
Posted by Terry K. at 11:05 AM EDT