CNS Embraces Dubious Kerry-Iran-Israel Story
Topic: CNSNews.com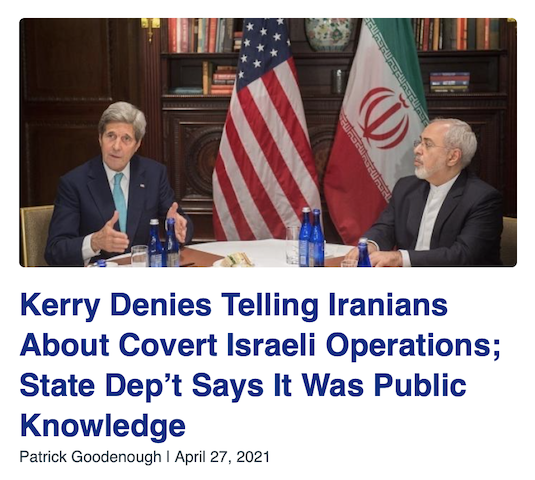 Just like its Media Research Center parent, CNSNews.com has embraced the dubious claim that former secretary of state and current climate envoy John Kerry leaked information to Iran about Israeli military strikes against Iranian facilities in Syria.
An April 27 article by Patrick Goodenough surprisingly led with Kerry's denial that he had any such conversation with the Iranian foreign minister, whose conversations were leaked, as well as the likelihood that the attacks were likely already public knowledge -- but also made space for Republican attacks on Kerry. Two days later, Goodenough wrote an article that focused on the Iranian response to the leaked audio, in which he also highlighted that "In the U.S., the most explosive aspect of the leaked recording has been Zarif's claim that Kerry had informed him about covert Israeli military strikes against Iranian targets in Syria." Goodenough noted Kerry's denial but not the fact that the State Department said the Israeli strikes were already public knowledge.
Despite the story not really going anywhere, Goodenough was determined not to give up on it. In an April 30 article, he effectively took the side of an enemy of the United States by trying to undermine Kerry's defense:
But Kerry dismissed the claim as "unequivocally false," and the State Department defended him by saying the issue of Israeli operation in Syria was public knowledge at the time, thus implying Kerry was not telling Zarif anything he would not already have known.

However, if Zarif is to be believed, he did not know about the attacks before Kerry enlightened him.

[...]

The first time Israel publicly acknowledged that it had carried out secretive operations against Iranian interests in Syria – with the number 200 mentioned – was in September 2018.

As reported earlier, it's unclear exactly when the Kerry-Zarif conversation took place – if indeed it did – and, if it did, whether it was during a face-to-face meeting or in some other form of communication.

Kerry has acknowledged having met with Zarif several times between the time he left the State Department (January 2017) and the time President Trump withdrew from the Iran nuclear deal (May 2018). Their last known meeting, in New York in April 2018, took place five months before Israel's public admission.
Goodenough went on to claim that this so-called scandal is "being called 'Zarifgate," -- but he doesn't say who, exactly, is calling it that -- and touted how Republican senators are demanding an investigation into Kerry's purported "transactional diplomacy," though the" transaction" was never identified.
Posted by Terry K. at 3:22 PM EDT