CNS Promotes Candace Owens' Anti-Vaxxer Claim
Topic: CNSNews.com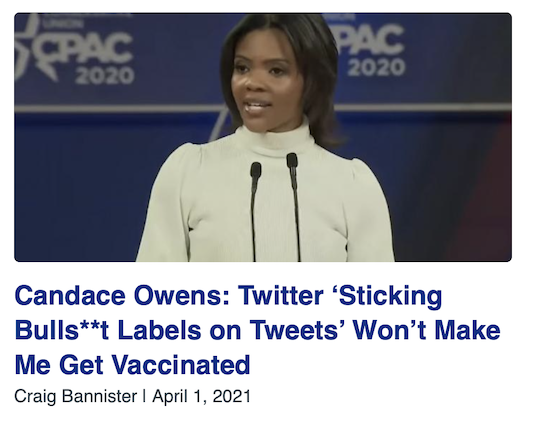 CNSNews.com -- mostly writer Craig Bannister -- continues its love affair with right-wing activist Candace Owens, believing that pretty much every hateful rant of hers is worthy of its own article. Let's see how those have stacked up since the last time we checked in:
So enamored is Bannister of Owens that he even touted her anti-vaccine rant -- and a related rant that it got flagged by Twitter for spreading misinformation -- in an April 1 article:
Twitter labeling her tweet about coronavirus vaccines "misleading" won't compel her to get her or her kids vaccinated, conservative commentator and BLEXIT Leader Candace Owens says.

In a post on Wednesday, Owens called it "a type of child abuse" to subject children to the vaccine, since they are at virtually no risk of dying from the coronavirus:

"Experimental vaccines on children who have an approximate 0% chance of dying from the virus for which they are being vaccinated against is a type of child abuse.

"ZERO long term trials conducted. I just cannot understand parents that would allow their kids to be guinea pigs."

Twitter slapped an exclamation mark and the following label on Owens' post, along with a link to the social media platform's rebuttal, which simply argues that vaccines are safe "for most" people:

[...]

Shortly after midnight, Owens posted two tweets condemning Twitter's censorship and advocacy for "Big Pharma."
This may be the first time that CNS has permitted a rebuttal to an Owens rant. She clearly can't handle criticism -- and Bannister and CNS will certainly do their best to avoid subjecting her to any. Indeed, in the post about Cardi B -- which recounted Owen's appearance on Tucker Carlson's Fox News show raging against Cardi B's "sexually charged performance" of her song "WAP" -- there was no mention of the fact that Carlson and Owens claimed to be so offended by the performance that video of it aired on a loop during the segment. Which would seem to undercut their performative outrage.
Posted by Terry K. at 1:23 AM EDT