CNS Ignores Dishonesty, Continues Posting Candace Owens' Clickbait
Topic: CNSNews.com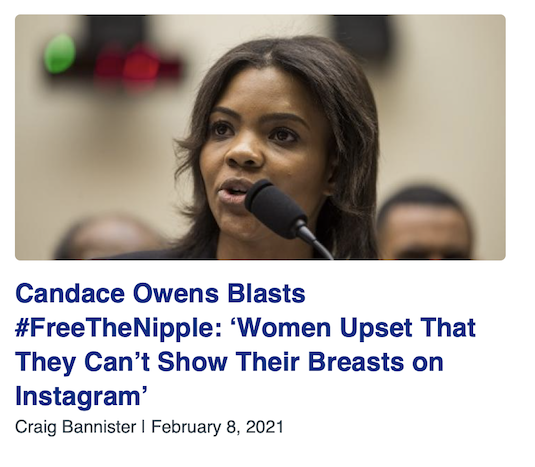 CNSNews.com loves quoting black right-wing activist Candace Owens' conservative rantings, no matter how dubious -- even while it censors the controversies she gets into. Since we last documented this in August, the love has continued, mostly from writer Craig Bannister:
In that last one, posted Dec. 11, Bannister uncritically repeated Owens' claim that "I am not afraid of any virus that has over a 99% survival rate" -- a dishonest argument that callously handwaves the fact that hundreds of thousands of people have died from it.
Bannister let Owens get away with more dishonesty in a Jan. 7 item:
The rise and fall of any nation always follows the same path, Blexit leader and conservative commentator Candace Owens said Wednesday.

Owens tweeted that the progression of a country takes nations through a common sequence of nine stages, the first and last of which are always the same – bondage:

Bondage,
Faith,
Courage,
Liberty,
Abundance,
Selfishness,
Complacency,
Dependence,
Bondage

Attaining abundance is, ironically, the very thing that ultimately proves to be a nation's undoing, Owens appears to suggest in her tweet:

"Nations always progress through the following sequence: From bondage to great faith; From faith to great courage; courage to liberty; liberty to abundance; abundance to selfishness; selfishness to complacency; complacency to dependence; From dependence back into bondage."

Owens' Blexit movement seeks to introduce conservative values to the nation's urban communities.
Bannister presents this as an original thought from Owens -- in fact, it's something that's been bouncing around the internet for years. We first wrote about it back in 2004 when a slightly longer verison of that list of stages had already been bouncing around right-wing email lists since 2000. The words were being attributed to 18th-century Scottish history professor (though there's no actual evidence it originates with him), which evolved somewhere along the line to "Alexander Tyler."
That dishonesty, of course, hasn't stopped Bannister from promoting Owens' alleged pearls of wisdom since then:
Clickbait is more important to Bannister than honesty, it appears.
Posted by Terry K. at 1:12 AM EST
Updated: Tuesday, February 9, 2021 2:46 PM EST