MRC Plays Whataboutism on Scandal-Ridden Matt Gaetz
Topic: Media Research Center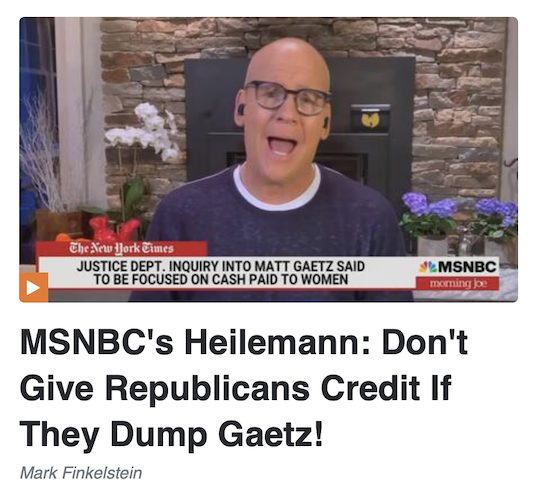 Media Research Center blogger Mark Finkelstein started an April 2 post by writing:
For the liberal media, when it comes to Republicans, it's often a case of damned-if-you-do, damned-if-you-don't.

Take the case of Florida congressman Matt Gaetz, who is facing accusations regarding his personal behavior ranging from the tawdry to the criminal. To date, no charges have been filed against Gaetz, and he has asserted that he has been the victim of an extortion plot.

If Gaetz's fellow Republicans refuse to distance themselves from him, the liberal media would surely accuse them of covering for a miscreant. But what if Republicans do denounce Gaetz? Well, that doesn't win them any brownie points either in the eyes of the "facts first" media.

Take MSNBC analyst John Heilemann on today's Morning Joe. He launched a pre-emptive strike against Republicans, with the goal of ensuring they'd receive no real moral credit should they denounce Gaetz.
Then it was time to bring in the whataboutism:
On that matter, Heilemann has some first-hand experience in dealing with a colleague enmeshed in a sex scandal. For years, Heilemann worked closely with Mark Halperin. The pair co-wrote two books about presidential campaigns. For three years, Heilemann and Halperin co-hosted a political analysis show on Bloomberg TV and MSNBC. Heilemann also co-starred with Halperin in Showtime's documentary series The Circus, a behind-the-scenes look going out on the road for the 2016 presidential election.

In 2017, Halperin was the subject of a major sex scandal. A dozen women came forward, accusing Halperin of sexual abuse. He was ultimately fired by NBC, MSNBC, and Showtime.

So how did Heilemann handle the scandal? Did he throw his long-time partner under the bus? Defend him? Nope: Heilemann went for the credulity-stretching claim that he was totally, completely, unaware that Halperin had ever been involved in anything sketchy. Talk about a "cynical public-relations-driven approach"!

[...]

If Heilemann was telling the truth, and had no "inkling" of Halperin's misbehavior despite years of working so closely with him, Heilemann must be incredibly obtuse—hardly a desirable quality in a TV "analyst."
Needless to say, Finkelstein offers no proof that Heilemann is lying when he claimed he knew nothing of Halperin's behavior toward women. Also needless to say, Finkelstein didn't mention what Halperin's current image -rehab gig is: working for fellow right-wing outlet Newsmax.
Finkelstein wasn't the only MRCer to go the whataboutism route on Gaetz. The same day, Duncan Schroeder grumbled that MSNBC's Joy Reid "asserting that, because Trump and now Congressman Matt Gaetz (R-Fla) have both had sexual assault allegations leveled against, Republicans must support sexual assault. No word on whether she thought Democrats like herself support sexual assault and sexual miscreants because of the party being the home of Bill Clinton, John Edwards, and lesser known figures like former Senators Brock Adams (WA), Charles Robb (VA), and former Congressmen Tim Mahoney (FL), Mel Reynolds (IL) and David Wu (OR)." He further declared that "sex scandals have unfortunately plagued both parties."
Meranwhile, an April 5 post by Veronica Hays complained that "Saturday Night Live" lampooned Gaetz, "touch[ing] on all the scandalous accusations brought against him this past week, such as sex trafficking and an indecent relationship with a minor." On April 15, Curtis Houck huffed that Gaetz was criticized on MSNBC again "despite the fact that Gaetz has denied any and all wrongdoing and called the leaked news stories 'smears' that 'range from distortions of my personal life, to wild — and I mean, wild — conspiracy theories.'"
None of those items, it's worth noting, explicitly condemn Gaetz's alleged behavior. We've already noted that the MRC's "news" division, CNSNews.com, has gone completely silent on the Gaetz story despite devoting numerous articles to his highly clickworthy (to right-wingers, that is) liberal-bashing.
Posted by Terry K. at 9:21 PM EDT