CNS Unemployment Coverage Distortion Watch
Topic: CNSNews.com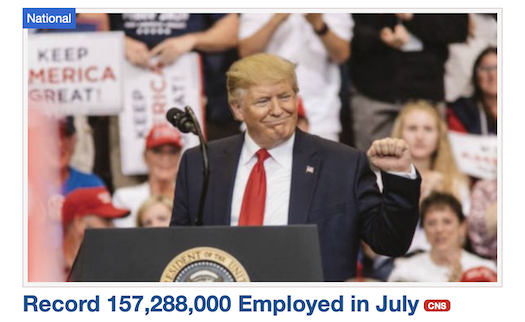 The August jobs report was disappointing, with only 130,000 jobs created and job-growth numbers from June and July revised downward. This, of course, meant that CNS had to obscure that fact with a raftload of pro-Trump rah-rah. Thus, Susan Jones' lead story begins this way:
The number of people employed in the United States hit a record 157,878,000 in August, the 21st record set under President Donald Trump, according to the employment report released today by the Bureau of Labor Statistics.

That's an increase of 590,000 from the record 157,228,000 employed in July.

The unemployment rate held steady at 3.7 percent. For blacks, the unemployment rate dropped to a record low of 5.5 percent last month. And for Hispanics, the unemployment rate was 4.2 percent in August, which ties the record low set earlier this year.
The fact that only 130,000 jobs were created was buried in the eighth paragraph, and the previous months' downward revisions didn't get mentioned until the following paragraph.
The usual sidebars got added -- Terry Jeffrey's item on manufacturing jobs, which grew so slowly that he instead highlighted that manufacturing jobs are "up 498,000 since President Donald Trump took office, and Craig Bannister's piece on Hispanic employment.
Bannister also served up a snarky item on how House Speaker Nancy Pelosi noting that the economy is "faltering" despite "the U.S. Labor Department's August report revealing that a record number of people were employed last month, while the unemployment rate held at 3.7% - and fell to record lows for blacks and Hispanics" and that "employment in the U.S. set its 21st record high under Trump in August."
Bannister writes like a man who knows what his bosses want to hear.
Posted by Terry K. at 1:44 AM EDT