Mysterious MRC Sports Blogger Gets Triggered By Another Athlete Kneeling
Topic: Media Research Center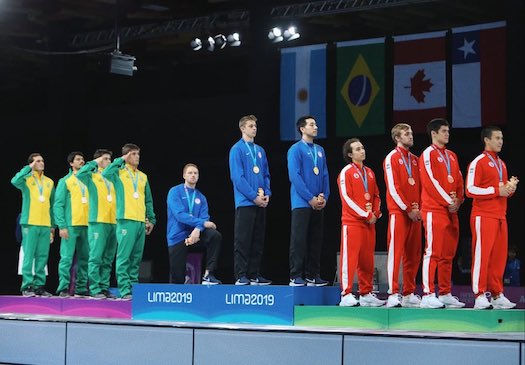 As someone with a years-long case of Kaepernick Derangement Syndrome -- still getting triggered every time he gets mentioned in the media -- it was all but inevitable that mysterious Media Research Center sports blogger Jay Maxson would get bent out of shape as only he can when U.S. fencing team member Race Imboden knelt on the podium as the national anthem played during the medal ceremony at the Pan American Games where the team won gold.
American fencer Race Imboden deserves induction into the "Hall of Shame" for kneeling on the victory stand at the Pan American Games and dishonoring his country on social media Friday. The Democratic Underground certainly loves his tweet blaming a "hateful" President for his pathetic protest, and Bleacher Report gave him a platform for encouraging other athletes to disrespect the U.S. flag.

Along with teammates Gerek Meinhardt and Nick Itkin, Imboden helped the USA defeat Brazil, 45-23 in the team foil gold-medal match. Meinhardt and Itkin were the real heroes of the day Friday ― for standing, for representing the United States with dignity and for respecting all who sacrificed for the freedom we enjoy today.

[...]

Imboden is the top-ranked U.S. fencer and stands No. 3 in the world rankings. He ranks considerably lower than that in the view of American patriots for putting down his country on foreign soil.
Maxson similarly huffed in a Aug. 15 post:
The recent Pan American Games in Lima, Peru were tarnished by U.S. athlete activism, which could be a forerunner for Tokyo. To Brewer, protest "reentered public consciousness because of the audacity of two athletes representing the United States." During a medal ceremony and playing of the U.S. national anthem, gold medalist fencer Race Imboden kneeled and later cited racism, gun control, mistreatment of immigrants and President Trump as his beefs.
Maxson also directs his ire to anyone who fails to similarly hate Imboden for exercising his constitutional right to free speech. In an Aug. 27 post, Maxson ranted that "professional protest profiteer" Dave Zirin of The Nation for hosting Imboden on his podcast to discuss the latter's "disgusting behavior that led to his being placed on 12-month probation by the U.S. Olympic and Paralympic Committee," further outraged that Imboden "invoked Colin Kaepernick and, like a good bleeding heart liberal, his own white guilt." Maxson concluded by declaring that Imboden was Zirin's "newest radical hero."
What does Maxson's ranting about an athlete's political views have to do with the "media research" that's supposed to be the mission of the MRC? We have no idea.
Posted by Terry K. at 5:40 PM EDT
Updated: Wednesday, September 11, 2019 5:49 PM EDT