Birther Revisionism: WND Still Blaming Hillary, Censoring WND's Key Role
Topic: WorldNetDaily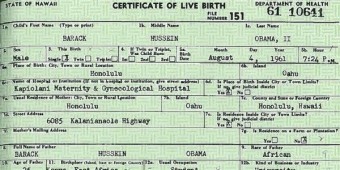 Joe Kovacs used a July 31 WorldNetDaily article to highlight a claim by Ttrump surrogates Diamond and Silk that Hillary Clinton might have been racist for her "involvement in the hunt for Barack Obama's true birthplace." Kovacs added:
It was operatives for Mrs. Clinton who sparked the entire controversy over Obama's natural-born citizenship during the 2008 campaign when Clinton was in a tight contest for the Democratic presidential nomination. Obama was able to fend off Hillary and eventually win the presidency, but his status of a being a natural-born citizen as the U.S. Constitution requires dogged his years in office, with Trump himself getting into the fray, urging the release of Obama's real birth certificate.
Yeah, no. PolitiFact documented that while a 2007 Clinton campaign memo pushed the idea of thing after Obama's "lack of American roots," it was never acted upon. Disgruntled Hillary supporters -- not campaign "operatives" -- embraced birther claims after she suspended her campaign, but the campaign itself never pushed it.
In other words, Kovacs is lying. He's also lying by omission as well, curiously failing to mention what was the defining story of his employer's and its signature issue from 2008 to 2016: pushing birther conspiracy theories.
Kovacs also did not mention that not only did WND work behind the scenes with Trump to push those conspiracy theories, it responded to the release of Obama's "real birth certificate" by concocting another conspiracy theory, that it was fake as well.
Then again, Kovacs doesn't want to admit the natural conclusion to Diamond and Silk's claim: If Hillary is racist for having a preliminary discussion about Obama's origins, then WND is absolutely racist for pursuing birther conspiracy theories so aggressively and maliciously, as if the birth certificate was Obama's Vince Foster.
It's as if Kovacs and WND don't want to take responsibility for what they publish, or something.
Posted by Terry K. at 1:12 AM EDT