MRC Defends Meghan McCain From Seth Meyers, Censors Her Husband's Homophobic Attack
Topic: Media Research Center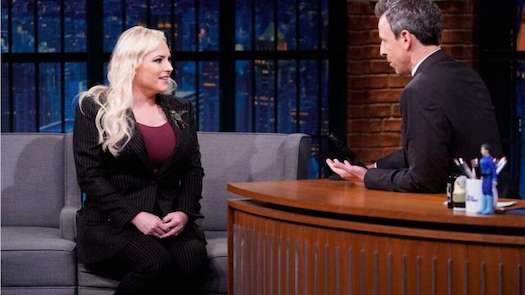 We've seen how the Media Research Center will do damage control for conservative figures by hiding inconvenient facts.
Kristine Marsh touted in a May 8 post that "The View co-host Meghan McCain had a tense exchange with Late Night host Seth Meyers Tuesday night, after the liberal host repeatedly berated McCain for criticizing Democrat Rep. Ilhan Omar. As Meyers couldn't get McCain to admit she had said anything wrong, she turned the tables on the host by calling out his liberal bias. She was joined the same day by the MRC's Dan Gainor writing at Fox News (weirdly, he's not allowed to post much of anything at the websites run by his employer), who gushed that McCain "deserves an award as the conservative most willing to fight with Hollywood liberals on their home turf" and complaining that "Meyers has a history of taking the left's side of almost every debate."
Tim Graham and Brent Bozell weighed in as well, whining that McCain was "getting thrown under the bus" for saying "conservative things on television," claiming that Meyers was "shaming" her for criticizing Rep. Ilhan Omar.
But none of these MRC writers mentioned what happened after the interview, even though it's very much a part of the story. McCain's husband, Ben Domenech -- the noted plagiarist who is now publisher of the right-wing opinion operation The Federalist -- went into a homophobic rage on Twitter, calling Meyers a n"untalented piece of shit who only has his job because he regularly gargled Lorne Michaels' balls," as well as "an awful person" and a "monumental asshole" and "proof that white men get ahead despite their obvious lack of talent ... a perfect definition of a cuck."
Called out on his rant, Domenech tepidly ofered a non-apology apology, claiming that "I'm sorry to anyone I offended."
The MRC's silence is doubly ironic because Graham and Bozell attacked Meyers for asking people to be careful about their language with a fit of whataboutism: "Does Meyers really think he and his fellow late-night lecturers are careful about their language? Stephen Colbert calling Trump Russian President Vladimir Putin's 'c—k holster'? Samantha Bee calling the president's daughter a 'feckless c—t'? Is that 'careful'?"
If the MRC gang could find nothing wrong with Domenech's vulgar rant, they're utterly hypocritical in taking it out on Meyers and other late-night hosts.
Posted by Terry K. at 5:46 PM EDT
Updated: Tuesday, May 28, 2019 5:48 PM EDT