Naked Athlete-Hating NewsBusters Blogger Dances on ESPN Magazine's Grave
Topic: Media Research Center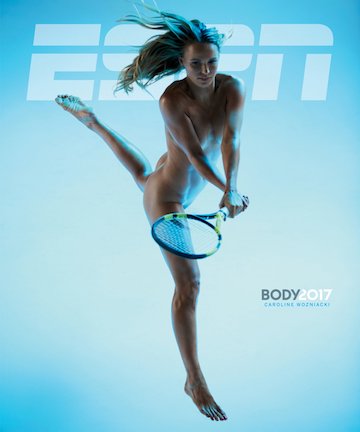 The past two years, mysterious NewsBusters sports blogger Jay Maxson had a meltdown over ESPN magazine's annual "Body Issue," featuring photos of naked athletes (with the naughty bits tastefully covered). So it's no surprise that when ESPN announced it would stop publishing the print edition of the magazine later this year -- but not before only final "Body Issue," Maxson was eager to dance on its grave with a special meltdown directed at, yes, those nekkid athletes:
Come September, ESPN The Magazine will take its place in the ash heap of history. The Worldwide Leader in "Progressive Sports and Naked Athletes" is discontinuing the magazine this fall, after 21 years in operation, but will make sure it ends with one final edition featuring nude athletes. When its business was flagging, ESPN The Magazine merely resorted to glorifying athletes out of uniform, and the strategy still didn't prevent it from going under.

The late F. Darrin Perry designed the magazine's format in 1998 as something akin to "a Rolling Stone of sports magazines, in which athletes were presented as rock stars," wrote The New York Times' Steven Heller in Perry's 2004 obituary. He placed an unconventional emphasis on big and dramatic photos that drew more attention -- especially to those naked athletes, one-upping Sports Illustrated's swimsuit editions.

[...]

ESPN spokesperson Paul Melvin said, "Storytelling is central to what we do and ESPN The Magazine drives some of the best sports writing and storytelling in the world. The Magazine has just enjoyed its finest creative year and we're looking forward to a tremendous 20th year of more award-winning narratives, features, imagery and reporting."

Journalists? Storytelling? There are no journalists telling stories behind the cameras at the naked body shoots, where no extravagance was spared. Those appeals to viewers' prurient interest will likely continue to appear on the main ESPN website. Javier Baez standing naked holding a baseball bat, Colin Kaepernick walking naked on a beach, softball player A.J. Andrews sailing over baked desert ground with glove outstretched don't even constitute "photo journalism."

The 2018 Body Issue featuring the raw variety of sport utilized 352 employees requiring months of preparation and multiple shooting locations. Apparently draining the bank in the process.

The Chicago Tribune's Phil Rosenthal wrote with a straight face that the body issue is intended to showcase athletes' toned bodies. Fitness Magazine shows toned bodies; ESPN's Body Issue peddles bare flesh. Some sports media refuse to stick to sports; ESPN refuses to stick to clothing, and it's not working.

Reprising his anger at people in sports whocommit the offense of talking about things that don't involve sports, Maxson alsohuffed that "ESPN The "Woke" Magazine is where one could go to read about U.S. Olympian fencer Ibtihaj Muhammad saying minority athletes must look up to (disgraced) 1968 Olympic protester John Carlos, Kaepernick, Serena Williams, Megan Rapinoe and so many activists in the WNBA.
By contrast, Maxson was never bothered by fleshiness of Sports Illustrated's swimsuit issue. Perhaps fearing the loss of something to write about with the ESPN magazine's imminent demise, Maxson redirected his ire at SI's swimsult models:
The idea of actually covering sports has become so passé for two iconic sports media organizations that they've devolved into a lusty competition to determine which can one-down the other in so-called artistic nudity. ESPN presents full buff arrays of athletes "performing" their respective sport, and Sports Illustrated is pulling out every PC trick in the book — hijabs and burkinis, painted ladies and politically correct subjects bearing virtue messages on their naked flesh — to gain attention. All in the name of progressive art moving sport and society forward toward the nirvana of diversity.

Just days ago, ESPN fired the latest shot in the woke/buck naked photo wars with its 2019 deviation from sport to hedonism. Seeking to maintain relevance, Sports Illustrated answers with woke, politically correct displays of flesh, only now with hijab- and burkini-clad, plus-sized and nude models adorned only with words like "tolerance" and "diversity."
Maxson was put out that SI's models include a plus-size woman -- purportedly evidence that SI is "trying to divert readers' attention from the fact that the magazine is leaving sports to the wind, wallowing in PC and starving for relevance -- and an out lesbian.But Maxson was really freaked out by one particular model:
The conflicted messages of the 2018 SI "#MeToo" Swimsuit photos cannot go unmentioned either. That's when several women posed completely naked with words written on their bodies. Aly Raisman, the Olympic gymnast who suffered sexual abuse at the hands of former Team USA Dr. Larry Nasser, inconceivably disrobed for this issue. Her body was "tattooed" with the words "abuse is never okay," "live for you" and "trust yourself." She's figuratively saying "I was abused ... but look at my body!" Unbelievable.
Actually, Raisman is saying that "being a survivor is nothing to be ashamed of, and going through a hard time does not define you," and that "women do not have to be modest to be respected. We are free to draw confidence and happiness in our own way, and it is never for someone else to choose for us or to even judge us for that matter."
Clearly, Maxson is more than happy to judge and demand that Raisman live her life the way Maxson deems appropriate.
Posted by Terry K. at 8:02 PM EDT
Updated: Sunday, June 2, 2019 3:22 PM EDT